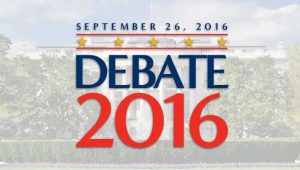 Tonight at long last the first general election debate will take place from the campus of Hofstra University in Long Island pinning Democratic hopeful Hillary Clinton against the GOP's nominee of choice, Donald Trump. It marks the first time that Trump will be debating another candidate in a one-on-one setting, and the first of three debates between the two major party candidates.
The event will be moderated by Lester Holt of NBC Nightly News, though all major networks (NBC, CBS, ABC, PBS, CNN, Fox News, Fox Business, CNBC, MSNBC, Univision, and C-SPAN) will be carrying the event live beginning at 9 p.m. EST. Unlike the primary debates which were sponsored and organized by a major broadcast network each time, the general election events are put together by the bipartisan Commission on Presidential Debates, allowing all network equal access to the broadcasting rights.
The event goes from 9 p.m. until 10:30 p.m. with no commercial interruptions, and will be broken down into six 15-minute segments spanning a wide variety of topics up to Holt's choosing. Responses will largely be two minutes in length, allowing ample time for follow-up and discussion on each topic. Third-party candidates such as former New Mexico Governor and Libertarian candidate Gary Johnson and Green Party's Dr. Jill Stein failed to qualify based on recent polling.
Monday's event is the first of the three main debates between Clinton and Trump; Sunday October 9th the two will square off in St. Louis in an even moderated by Anderson Cooper of CNN and ABC's Martha Raddatz, and the final presidential debate will be moderated by Fox News's Chris Wallace on October 19th from the campus of UNLV in Las Vegas, Nevada. Elaine Quijano of CBS News will moderate the Vice Presidential debate next week on October 4 from Longwood University in Virginia.
Watch live feed above, via NBC News.
Have a tip we should know? tips@mediaite.com