While Conan Returns, Jimmy Fallon Continues Late Night Reinvention With "Suckers"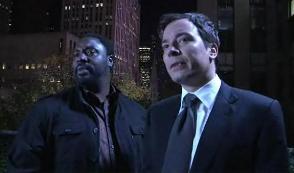 Conan O'Brien made his much talked about (and written about) return to late night this week, to strong ratings.
But while a lot of attention has been paid to Conan's place in the late night community, someone else is continuing to break the mold: NBC's Jimmy Fallon (also on the New York cover this week).
O'Brien's returned after months of discussion and coverage, but as Time's James Poniewozik put it, it wasn't so much a "reinvention of the talk show form as a restoration of Conan" – the big new TBS show looked a lot like "the Tonight Show again."
Meanwhile the current host of the show Conan left (the one he left on his own accord), Late Night, is completely changing the late night form. Fallon's show has done serial comedy segments in the past – like "6-bee" and "Real Housewives of Late Night" – but a new series premiering this week takes it to another level. "Suckers" can best be described as Twilight mixed with True Blood…of course, all taking place behind the scenes at a late night show.
The massive, highly-produced 12-minute first mini-episode aired this week on Late Night, and featured Fallon and other staff writers as vampires and a group song which could double as the first single for the Twilight musical ("I can smell her mortal veins pumping all that blood, I want to show her how it feels to never die"). There's also a funny, insidery storyline about the new NYC mega-grocery store/restaurant Eataly ("It's like Disneyland for fat people," says announcer Steve Higgins).
Of course, the reason Fallon can do, and his staff chooses to do, these types of segments is because the host is working with a unique set of skills. In the New York cover story this week on Fallon, "Mr. Sunshine," the differences are discussed:
One of the great successes of Late Night is that, rather then shoehorn Fallon into a traditional host's role, the show has evolved bits like "6-bee" to highlight his strengths. It's near impossible, for example, to imagine David Letterman starring in an eight-minute Glee-inspired musical sketch that climaxes with him singing Twisted Sister. In fact, it's near impossible to imagine David Letterman watching Glee. "Conan is a writer; that's his background," says Fallon. "Leno's a stand-up. Letterman's a stand-up. Kimmel's a stand-up." But for Fallon, the variety format fits: "It's almost like hosting SNL every night of the week."
While Conan eats up the attention this week, "Suckers" will continue to grow…and expand what late night can be.
Check out the first episode of "Suckers" below:


—–
» Follow Steve Krakauer on Twitter
Have a tip we should know? tips@mediaite.com