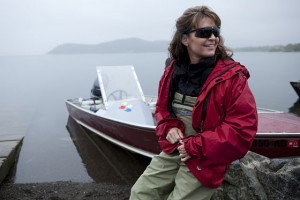 By now, it's common knowledge that people can see Sarah Palin's Alaska from their living rooms. But as the show's premiere edges closer, a new question is taking root: can 2012 be seen from Sarah Palin's Alaska? According to one former aide quoted in The Daily Beast, the answer is yes. "She is running for president," he said. "And this is a season-long bio ad, free of charge."
Steve Krakauer pondered the same question this week, guessing that she wouldn't run but rather use her influence to get a Republican into the White House. Yet Shushannah Walshe's Daily Beast report casts doubt upon the show's true motives. Here's how GOP strategist Terry Sullivan tells it:
It's definitely one big cable buy. When Governor [Mitt] Romney was talking about running for president, he had sent out a DVD where he was sledding in Utah with the family, talking about whether he would run or not, and everybody was baking cookies and hanging out. The difference is she has a production company willing to foot the bill for it.
Given Palin's flair for competition, it's more than likely that Sarah Palin's Alaska will find her out-sledding, out-baking, and out-hanging Romney, her potential 2012 primary contender. Walshe agrees, while also noting that the show is a chance for Americans to see the "softer, pre-Tea Party Palin" that they grew to love. The former aide thinks that the show might even attract people who didn't grow to love Palin by "reestablishing her with the general public."
And though the TLC show (and producer Mark Burnett) stressed its strictly educational, pro-Alaska stance, it's laughable to think the program will be apolitical. Even Palin acknowledges the show's implications, albeit in her own coy fashion. When Karl Rove questioned Palin's gravitas, she asked Fox News' Chris Wallace, "Wasn't Ronald Reagan an actor?" If that isn't Palinese for, "I can and will be president," then nothing is.
Have a tip we should know? tips@mediaite.com