White GOP Candidate Who Changed Name to 'Cesar Chavez' Taken Off Arizona Ballot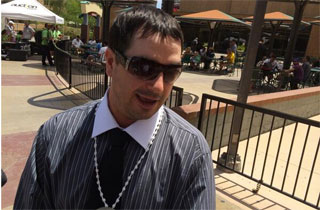 In yet another case of discrimination against white guys pretending to be Hispanic (such injustice), Scott Fistler, who legally changed his name to Cesar Chavez to run for office in a heavily Latino district, was kicked off the Democratic primary ballot in an Arizona congressional race.
A judge ruled that Fistler/Chavez, who used to be a white Tea Party politician, was ineligible to run as a Democrat in Arizona's 7th Congressional District — but only because a huge percentage of the signatures used to get him on the ballot were "invalid," reports USA Today. However, despite Democrat protests, the same judge ruled that Chavez had not conducted a "coherent scheme" to get on the ballot by pretending to be a Latino man with the name of one of a historically-prominent Mexican-American. (We don't think anyone was fooled.)
Weirdly, Senor Fistler, who has been seen in public looking more stereotypically Latino by the day (see above photo), acted as his own attorney during the hearing, and "veered from comical antics to tearful testimony". He hopes to appeal to the Arizona Supreme Court.
This is also on his campaign website (which is, for real, a Blogspot page):
WE NEED DONATIONS! THE ELITE ARE TRYING TO STOP OUR CAMPAIGN…

Our freedom of speech is in jeopardy, but we are up standing up against the corporate elite who want nothing more than to control an election. Spending millions on high profile lawyers just to challenge a candidate who is a military veteran who has a passion to effect change…

We are living in days where we are discouraged from protesting. Media control to spread hate filled propaganda about a candidate they have never met…

The word "have" is in the middle Chavez.
-We have a choice
-We have to do better than excuses
-We have a future
-We will have Chavez elected in 2014
We also "have" a terrible reason that he chose the name Cesar Chavez:
Where did Cesar Chavez get name? Favorite athletes are named Chavez, he says, and favorite dog food is Cesar. #AZ07 pic.twitter.com/DgSXDZV5wN

— BrahmResnik (@brahmresnik) June 17, 2014
[USA Today]
[Image via Brahms Resnik]
—
>> Follow Tina Nguyen (@Tina_Nguyen) on Twitter
Have a tip we should know? [email protected]