White House Aides Reportedly Limiting President Trump's 'Screen Time' To Prevent Tweeting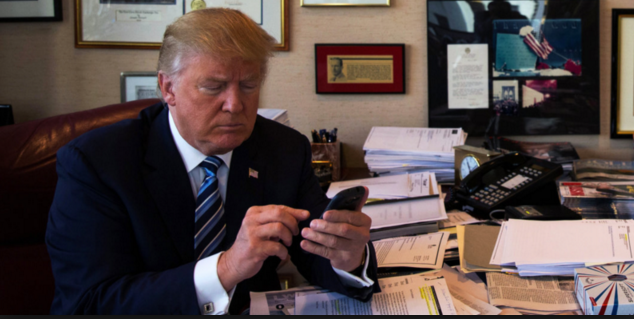 Every parent raising children in the digital era understands the challenges of limiting screen time. And yes, iPhones, iPads, computers and TV monitors are ALL screens.
GO READ A BOOK, GO OUTSIDE or PLAY WITH LEGOS! — Sorry, muscle memory.
Mike Allen reported today in the Axios morning newsletter that White House officials have recognized that keeping President Trump from watching cable news and, off his iPhone, makes for a more far more disciplined operation. Allen writes:
Top White House officials tell me the key to forcing a more disciplined President Trump like the one onstage overseas is limiting his screen time. In Trump's case, it's curtailing his time watching TV and banging out tweets on his iPhone.

Trump himself has been pushing staff to give him more free time. But staff does everything it can to load up his schedule to keep him from getting worked up watching cable coverage, which often precipitates his tweets. It has worked well overseas so far.
It's been widely noted that many of Trump's tweets follow segments that have just aired, which strongly suggest that the president gets a lot of information from his cable news shows like Fox & Friends and the like. Keeping the president "off screens" during his international trip appears to have had an impact on the presidential Twitter feed.
While a more disciplined and uniform communication strategy is probably good news for the White House Press Department, it presents challenges for websites who love to cover inconsistent, absurd and just entertaining communications.
Have a tip we should know? tips@mediaite.com