White House Fires Back at CNN's Acosta Lawsuit: 'More Grandstanding From CNN'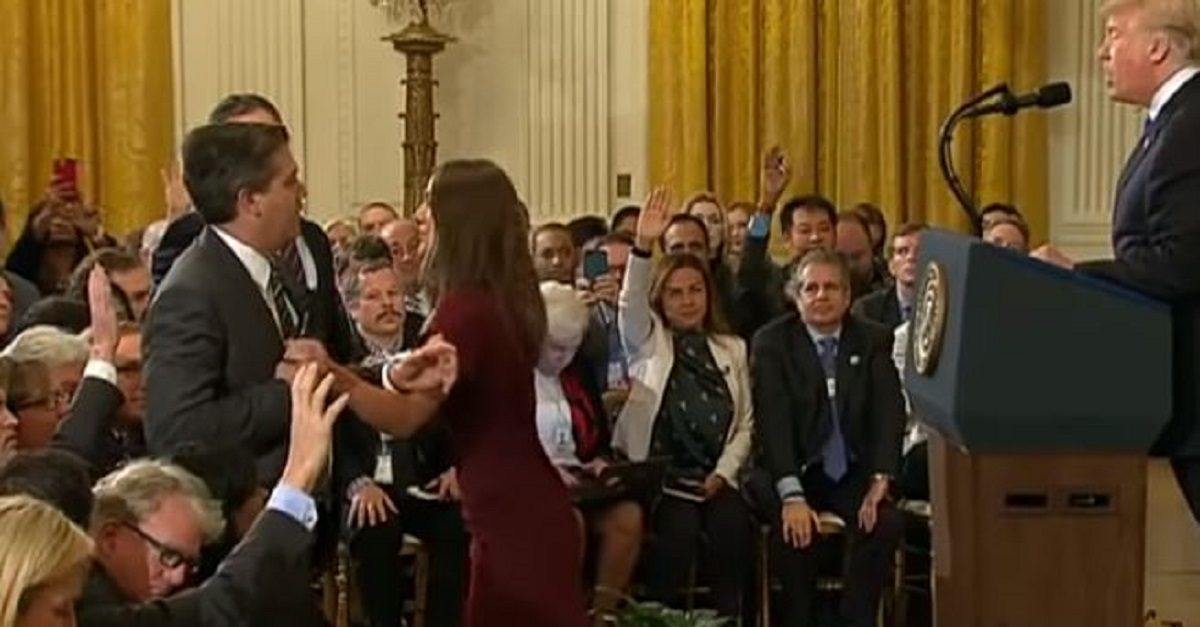 Hit with a lawsuit by CNN for pulling Jim Acosta's press pass, the White House said Tuesday it plans to fight back — claiming the legal move is all for show.
"We have been advised that CNN has filed a complaint challenging the suspension of Jim Acosta's hard pass," Press Secretary Sarah Sanders said in a statement. "This is just more grandstanding from CNN, and we will vigorously defend against the lawsuit."
The White House contends that CNN had enough other reporters with press credentials gaining them White House access, and that "Mr. Acosta is no more or less special than any other media outlet or reporter with respect to the First Amendment."
Recapping the events of a recent press conference in which Acosta persisted in asking questions to President Donald Trump, the White House argued the reporter's behavior was uncalled for.
"After Mr. Acosta asked the President two questions-each of which the President answered-he physically refused to surrender a White House microphone to an intern, so that other reporters might ask their questions," Sanders said. "This was not the first time this reporter has inappropriately refused to yield to other reporters."
The White House is also claiming Acosta's behavior has hindered the work of other reporters in the briefing room.
"The White House cannot run an orderly and fair press conference when a reporter acts this way, which is neither appropriate nor professional. The First Amendment is not served when a single reporter, of more than 150 present, attempts to monopolize the floor. If there is no check on this type of behavior it impedes the ability of the President, the White House staff, and members of the media to conduct business."
Here's the full statement (via the Washington Post's Erik Wemple):
White House @presssec has issued a statement calling the CNN lawsuit 'just more grandstanding.' pic.twitter.com/MUbfXKGzRn

— ErikWemple (@ErikWemple) November 13, 2018
CNN announced the lawsuit on Tuesday, demanding the return of Acosta's press pass. The action has been praised by some in the media and proponents of the First Amendment who are standing in solidarity with the outlet.
The White House sparked controversy last week after defending its punishment of Acosta with a doctored video clip of the briefing in which he makes physical contact with the intern attempting to remove the microphone from his hand. The footage was discovered to have come from Alex Jones' propaganda site, Infowars, according to The New York Times, and made Acosta's actions appear aggressive rather than accidental.
[featured photo via screengrab]
Have a tip we should know? tips@mediaite.com