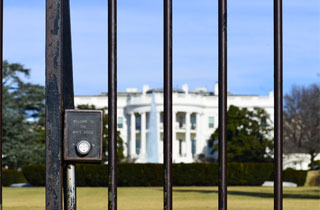 Today the White House, which famously placed a two-year ban on lobbyists looking to join their administration, announced that they were hiring high-power lobbyist Marty Paone as a "deputy assistant for legislative affairs [serving] as a liaison to the Senate," in an effort to help the White House get their legislation through a soon-to-be Republican Congress. Wait, guys he's, like, totally lobbying, like, for real.
Paone, who served as a Senate staffer for 29 years before becoming a top lobbyist at Prime Policy Group, was granted a waiver by the Obama administration exempting him from an ethics rule that should technically bar him from working for the president. On his very first day in office in 2009, Barack Obama signed a much-promised executive order preventing anyone who had lobbied the executive branch from serving in his administration for two years. In August of 2014, however, Obama loosened that restriction, and has granted at least 61 Ethics Pledge waivers to administration employees.
According to The Washington Post, however, this is the first person in "at least in the previous two years" to get a waiver on the lobbying restriction:
To justify the Paone hire, White House counsel Neil Eggleston wrote that Obama "requires a candidate who possesses deep and long-standing relationships in both parties in order to facilitate productive dialogue between the Senate and the White House …" Therefore, Eggleston reasoned that it was in "the public interest" to grant Paone the waiver.
Paone left the Senate in 2008 and joined PPG, and during this time, lobbied the White House and Congress on behalf of the controversial Keystone XL project. (The White House says that Paone will not be allowed to lobby on behalf of Keystone.) Prior to that, Paone was the Senate majority secretary managing the floor schedule, which means he knows how Congress works, real good. No wonder he was an effective lobbyist.
[The Washington Post]
[Image via Shutterstock]
—
>> Follow Tina Nguyen (@Tina_Nguyen) on Twitter
Have a tip we should know? tips@mediaite.com