White House: Obama Will 'Wholeheartedly' Advise Bernie and Hillary to Pick Garland if They Win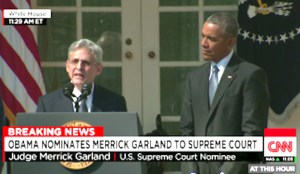 The White House is pouring it on a little thick regarding DC Circuit Court Chief Judge Merrick Garland, who has been nominated to replace late Supreme Court Justice Antonin Scalia. President Obama's messaging around Judge Garland, a moderate consensus pick who has been kept on deck as a guy who might be able to get through a Republican Senate, is the bestest, most qualified person for the job anyway, period, exclamation point.
While Hillary Clinton and Bernie Sanders have both urged the Senate to take up Garland's nomination, it remains possible that Scalia's vacancy will persist into the next administration, which, for Democrats, could also mean a Democratic Senate. At Friday's White House daily briefing, Press Secretary Josh Earnest was asked if President Obama would advise Hillary Clinton or Bernie Sanders, if they were to win the presidency, to appoint Merrick. Earnest's response was as predictable as it was unbelievable:
I think the President would wholeheartedly recommend that the next president, Democrat or Republican, give careful consideration to Chief Judge Garland as the person to fill the vacancy on the Supreme Court.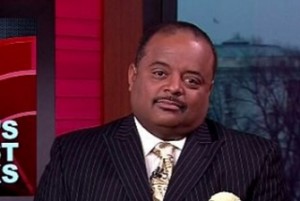 Now, I get why he thought he had to say that, but this is me making Roland Martin-face at Josh Earnest right now. You mean to tell me that Barack Obama, after Hillary Clinton or Bernie Sanders (probably Hillary) wins the presidency and flips the Senate, is going to tell them to go ahead and nominate a 63 year-old white dude with a conservative enough record that Orrin Hatch likes him, instead of a younger, more progressive, more diverse pick that a Democratically-held Senate can ram down the GOP's throat after they stonewalled Obama for a year?
Of course not, but that's what the messaging has to be, that Judge Garland is the love child of Jesus and Solomon, and Republicans are insane for not confirming him. Which they are, because Garland is a huge political gift for them.
This was just some off-the-cuff boilerplate, though, and doesn't preclude the White House from making its next move, which ought to be to pressure Senate Republicans to schedule a vote on Judge Garland before the Republican convention in July. Once they have a clearer picture of who the choices for next president are, you might find them begging to confirm Garland.
This is an opinion piece. The views expressed in this article are those of just the author.