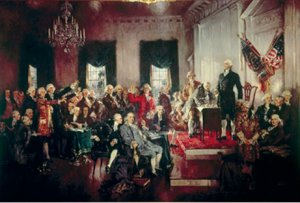 The White House has unrolled a new way for Americans to ask their government for change on the internet, announcing yesterday plans for "We the People", a program that references the U.S.'s first petition, the Constitution. Through "We the People," Americans can start petitions to then be circulated through email and social network until they get enough votes to merit the White House policy staff's attention. According to the announcement, it will only take "5,000 signatures in 30 days" to get such petitions reviewed and answered. That doesn't sound like that many, really! You don't even have to get dressed to make change, anymore; you just need a lot of internet friends.
In the past, Obama has been pretty open to listening to Americans on the internet and has used YouTube and Twitter to hold town-hall style Q&A's; Americans on the internet, however, have mostly taken these opportunities to ask the President to legalize marijuana. Often flippant in his response to these kinds of questions, it seems unlikely that the White House will bend to every one of the internet's whims with this new system, but it does offer an interesting new voice to "the people."
As Time's Techland blog points out, the U.S. is not the first to try this sort of thing. Former prime minister Gordon Brown developed a similar system in the U.K., wherein petitions garnering more than 100,000 signatures were voted on in the House of Commons. Recently re-implemented, the system has proven popular.
This kind of thing generally caters to people and organizations with large online communities already in place, which explains the popularity of petitions launched by media organizations (The Sun's petition to freeze gas tax in England, for example) and lends an interesting power to places like Reddit. We here at Mediaite have about 22,000 twitter followers, meaning we would only need one in four to sign our petition to get it pushed through. Which: petition ideas in the comments, please!
Have a tip we should know? tips@mediaite.com