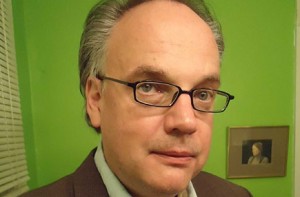 The poetry world has reacted with outrage upon learning that one of the poems selected for the 2015 edition of Best American Poetry was written by a white man using the pseudonym Yi-Fen Chou.
Michael Derrick Hudson is a genealogist from Fort Wayne, Indiana. After submitting the poem to more than forty poetry journals and receiving forty rejections, he thought he might have better luck using a pen name. Ti-Fen Chou submitted the same poem, and was published after only his ninth rejection.
After being selected for the BAP, Hudson admitted the ruse. "If this indeed is one of the best American poems of 2015, it took quite a bit of effort to get it into print, but I'm nothing if not persistent," he nonchalantly told the journal.
But his critics were not so laid back. "He sort of implies that minorities are published because we're minorities, not because of our work," Chapman University professor Victoria Chang told The Washington Post. "That's just insulting because it strips everything we've worked so hard for." The Rumpus declared it "Yellowface in poetry."
The editor of the journal Sherman Alexie denounced the ruse as "colonial theft" and unfair to Asian-Americans. "Bluntly stated, I was more amenable to the poem because I thought the author was Chinese American," he said.
But he also defended the decision to include the poem. "I believe I would have committed a larger injustice by dumping the poem. I think I would have cast doubt on every poem I have chosen for BAP. It would have implied that I chose poems based only on identity."
[Image via PoetryFoundation.org]
——
>>Follow Alex Griswold (@HashtagGriswold) on Twitter
Have a tip we should know? tips@mediaite.com