White N.C. Congressman On CNN Asks: 'Where Is the Spirit of Martin Luther King?'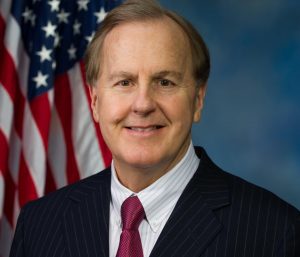 Rep. Robert Pittenger (R-NC), called for restraint on CNN Wednesday night as the city of Charlotte was engulfed in violent protest. He asked, "Where is the spirit of Martin Luther King?"
Pittenger, who is white, criticized African-American leaders, specifically Attorney General Loretta Lynch and President Barack Obama for failing to bring a "measured" and "thoughtful" response.
As the protests turned violent Wednesday night, one civilian was shot by another civilian and critically injured. There were multiple reports of destroyed property and looting. Camera crews and TV correspondents were tear-gassed by police and accosted by protesters. According to reports, rioters attempted to throw one still photographer into a fire.
Appraising the violence, Pittenger said that the demonstrations and rioting were "out of context of reality." He added, "What we see now is just totally unacceptable. Where is Martin Luther King today? Where is the spirit of Martin Luther King? We cherish him and his memory every February, and we honor him, and yet, where is the spirit of that?" (February is Black History Month, but the federal holiday Martin Luther King Jr. Day occurs in January.)
Pittenger asked CNN anchor Don Lemon where were the leaders to encourage people to protest in a non-violent constructive way, with "hope and trust."
Wednesday was the second consecutive night of violent protest in Charlotte, in response to the death Tuesday of Keith Scott, a black man who was shot by police. Police maintain that he was holding a gun, while a witness says he was holding a book. Video of the shooting has not been released.
Charlotte's Mayor Jennifer Roberts told CNN that she had not viewed the video of Scott's death yet, but she would see it when it was released to the public on Thursday.
When Lemon asked North Carolina Gov. Pat McCrory (R) on CNN Wednesday night about the release of the video, the governor deferred to the local police. He said he was "extremely concerned" about releasing the video, wanting to "protect the constitutional rights" of the officers, which he said needed to balanced out with the need for transparency and the thoughts of Scott's family. McCrory faces a close re-election contest this year. He also said that he had not seen the video.
The Charlotte Police Department, Pittenger said, was "there to protect everybody." He said it was not a "black-white racial issue," because both the officer who shot Scott and the Charlotte PD chief are both black. "Where's the discrimination?" he asked.
Pittenger has represented the 9th congressional district of North Carolina, which includes outer portions of Charlotte, since 2013.
—
[image: Official Congressional Portrait]
Sam Reisman (@thericeman) is a staff editor at Mediaite.
Have a tip we should know? tips@mediaite.com