Witness to Civilian Shooting Describes Senseless, Indiscriminate Gunfire Into Crowd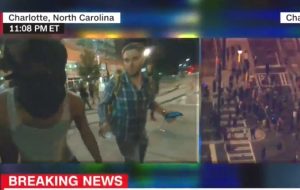 Ryan James, a first-person witness to the civilian-on-civilian shooting that left one person in critical condition Wednesday night, describes seeing a man unleashing indiscriminate, senseless gunfire into the crowd.
Writing in The Daily Beast hours after the shooting, James reports:
Around 8:30 p.m., a civilian fired a pistol indiscriminately into a crowd of dozens outside the hotel, turned and ran, leaving a man laying on the ground in a pool of blood on the sidewalk. There was a loud pop, then panic and confusion. Standing about 10 yards away, I looked down the barrel of a pistol. Several people were screaming, saying someone was shot in the head and a crowd quickly formed around the victim, a black male. I thought to myself 'oh my God, why?' Breathing heavily, I called 911, pacing around in the street. I could be the person on life support. The bullet had whizzed past me. But here I was, still breathing, and reporting this tragic news unfolding in front of me.
He describes the shooter as a black male who ran away about five minutes before emergency crews arrived.
The victim of the shooting was originally reported to be dead. The official Charlotte Twitter account subsequently issued a correction, saying that the victim was in critical condition and on life support.
Wednesday marks the second consecutive night of violent protests in Charlotte following the death of Keith Scott, a black man shot by police. Police say Scott had a gun; a witness said he was holding a book. Video of the shooting has not been made public.
You can read James' complete harrowing account at the Daily Beast. 
—
Sam Reisman (@thericeman) is a staff editor at Mediaite.
Have a tip we should know? tips@mediaite.com