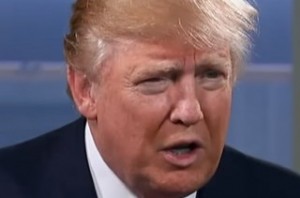 After a prominent white nationalist was outed as a Trump delegate (and subsequently resigned from that role), his party took to Facebook to announce that "[w]e have more delegates!"
Mother Jones broke the story a little over a week ago that William Johnson, a Los Angeles-based attorney, president of the white nationalist American Freedom Party (AFP), and active Trump supporter, had been selected as one of Trump's California delegates.
Johnson told Mother Jones at the time "I just hope to show how I can be mainstream and have these views," adding: "I can be a white nationalist and be a strong supporter of Donald Trump and be a good example to everybody."
The Trump campaign chalked Johnson's selection up to a "database error," and he subsequently resigned.
On Thursday, however, Mother Jones' Josh Harkinson reported that Johnson and the AFP are confirming other party members have been selected as Trump delegates, though one of them is an "honorary" delegate, a type of delegate which does "not have voting power, but typically are selected by state parties to attend the convention, often as a perk in exchange for political donations."
The AFP was "initially established by racist Southern California skinheads," and "aims to deport immigrants and return the United States to white rule," according to the Southern Poverty Law Center.
Johnson has previously spoken of his desire to create "a white ethno-state" since "that's the only way western civilization and the white race will survive." He has been one of Trump's most notable supporters this campaign cycle, sponsoring pro-Trump robocalls throughout the cycle, one of which said: "The white race is being replaced by other peoples in America and in all white countries. Donald Trump stands strong as a nationalist."
Mother Jones writes:
Johnson believes that Trump's rise will motivate other white nationalists to express their views publicly. "You've got to realize that I'm out in the open and upfront, but a lot of people aren't there yet," he said. "Talk to me in eight months and more people will be out. Particularly if Donald Trump gets elected."
Have a tip we should know? tips@mediaite.com