White Turkey, Chilly: Between The Lines Of President Obama's Lunch With Mitt Romney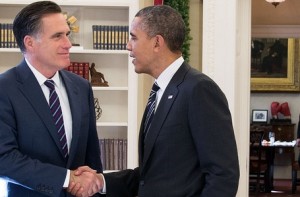 President Obama met former Massachusetts Governor and vanquished 2012 Republican presidential nominee Mitt Romney for lunch at the White House today, and while there's no way to know if the menu of white turkey chili was some sort of cheeky pun about Romney's demographic kvetching, there are a few not-so-subtle clues that can be read into the trickle of details that the White House put out about this repast of rivals. There are conspicuous differences between the expectations the President conveyed when he first invited Gov. Romney, and the White House's tersely cordial readout of Thursday's lunch.
On Election Night, Governor Romney gave a concession speech classy enough to dissipate much of the bitterness of the hard-fought 2012 presidential campaign, and in his first press conference following his reelection, President Obama returned the favor by extending an invitation to Romney, as well as some kind words. "My hope is, before the end of the year," the President said, "that we have a chance to sit down and talk."
The President praised Romney, saying that his turnaround of the 2002 Winter Olympics demonstrated a "skill set of trying to figure out how do we make something work (that) better applies to the federal government," and said that he hoped to "get ideas from him and see if there are some ways that we can potentially work together."
It was a chance for Mitt Romney to end his political career on a bipartisan grace note, and, of course, for President Obama to show generosity in victory.
Barely minutes after that magnanimous gesture, however, came reports of a Romney conference call with donors during which he blamed his loss on women and minorities who were bought off with "extraordinary gifts" like health care and not being deported.
That was about two weeks ago, and while the President elected not to rescind his invitation, the official White House readout tells a different story than that gracious invitation:
This afternoon, President Obama and Governor Romney visited for an hour over lunch in the Private Dining Room adjacent to the Oval Office. Governor Romney congratulated the President for the success of his campaign and wished him well over the coming four years. The focus of their discussion was on America's leadership in the world and the importance of maintaining that leadership position in the future. They pledged to stay in touch, particularly if opportunities to work together on shared interests arise in the future. Their lunch menu included white turkey chili and Southwestern grilled chicken salad.
Notably absent was any discussion of the challenges the President one said Romney might be ale to help with, as well as any tangible plan to ever meet again, unless it's at that "farm upstate" that Seamus lives on now.
Have a tip we should know? tips@mediaite.com