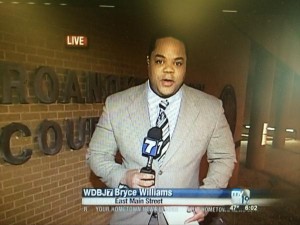 Hours after the on-camera shooting death of WDBJ reporter Alison Parker and cameraman Adam Ward, authorities identified former station employee Vester Flanagan as a suspect.
Around the same time, several social media accounts listed under the name Bryce Williams began posting bits of information about Parker, Ward and the shooting — including what appeared to be GoPro or smartphone-captured video of the crime.
WDBJ, CNN and other outlets have since confirmed that Flanagan, who went by the name Bryce Williams while he worked at WDBJ, attempted to commit suicide after he was confronted by police on Interstate 66.
Obviously, we're still in the early stage of knowing precisely what happened this morning in Roanoke, Virginia, and why it all happened in the first place. However, the question remains, who is Vester Flanagan/Bryce Williams?
So far, we know that Flanagan was a former employee of WDBJ, where Parker and Ward also worked. According to CNN, who spoke with another former station employee, Flanagan worked at WDBJ "for about a year" as a reporter.
He was fired from his job at the station, though CNN's source claims the reasons were never made public.
Those reasons, however, may have something to do with claims supposedly made by Flanagan himself, as the same social media accounts that posted the alleged video of the shooting also released information about Parker, Ward and the station's inner workings: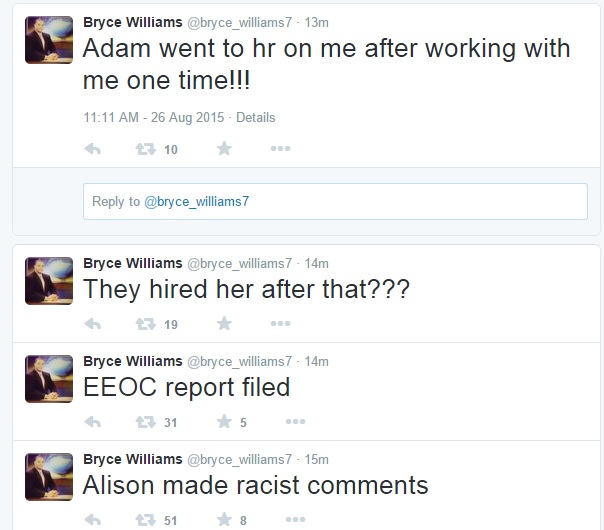 Whether or not these tweeted claims are true remains to be seen. Considering the content of the subsequently posted video, however, the poster's claims could shed light on why Flanagan was fired. That, or help explain why the suspect decided to attack Parker and Ward, then later post it online, in the first place.
Further clues likely exist in the 23-page fax Flanagan reportedly sent to ABC:
JUST IN: @ABC received a fax from someone who says he is Bryce Williams. It is a lengthy document. We have turned it over to authorities.

— Michael Del Moro (@MikeDelMoro) August 26, 2015
The network promptly turned it over to the authorities for their ongoing investigation.
In addition to the aforementioned shooting videos, Flanagan also managed to post a demo reel of his past reports before his social media accounts were suspended:
We'll update as more information about Flanagan becomes available.
UPDATE–1:19 p.m. EST: According to The Daily Caller, WDBJ president and general manager Jeffrey Marks said they had to call the police to escort Flanagan from the building the day he was fired:
"I'll tell you what I know," Marks said. "Vester was an unhappy man. We employed him as a reporter and he had some talent in that respect and some experience, although he had been out of the business for a while. When he was hired here, he quickly gathered a reputation as someone who was difficult to work with. He was sort of looking out for people to say things that he could take offense to."

"And eventually," Marks continued, "after many incidents of his anger coming to the fore, we dismissed him. And he did not take that well. We had to call the police to escort him from the building."
Marks goes on to say that Flanagan filed complaints with the Equal Opportunity Employment Commission, but that none of his claims could be corroborated.
[Image via WDBJ/screengrab]
— —
>> Follow Andrew Husband (@AndrewHusband) on Twitter
Have a tip we should know? tips@mediaite.com