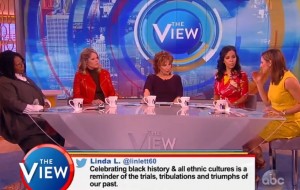 Clueless actress Stacey Dash has been talking a lot about the boycott of the Oscars and taking a lot of heat for it, too. Today, The View turned up that heat by including her in their daily roundup of trending topics, where Whoopi Goldberg and Sunny Hostin took a no-holds-barred approach to letting Dash and her supporters know why they are wrong.
Hostin pointed out that while Dash called for the dismantling of networks like Black Entertainment Television (BET), she once had a recurring role on BET herself. Dash has also appeared on a number of magazines that are made specifically for women of color, which Hostin said makes her "the height of hypocrisy."
The biggest mic drop came when co-host Paula Faris asked if it was possible that Dash was right and black magazines, networks, and historical remembrance months "subconsciously" further segregation in American culture and Hostin and Goldberg hit back at her.
Hostin interrupted Faris, saying, "No. No it's not, Paula. The bottom line is the reason there is a Black History Month is that as far as I remember, when I was in school, I knew nothing about my history. I wasn't taught about my history."
"What do you know about black history?" Goldberg asked the white reporter from ABC News, who said she knew what she had learned in school and "taken upon [herself] to learn." Goldberg wasn't impressed, asking if she knew anything beyond "there were slaves" and saying that schools rarely teach accurate black history.
Later, a tweet flashed across the screen that hit her point home:
@TheView ridiculous and so are some of these comments. The reason we created those shows and networks was bc we were shut out and still is.

— Moe-Moe (@mhowze31) January 21, 2016
The consensus amongst this group was clear: Dash railing against networks and magazines that were created to provide for an underserved population is not only hypocritical given how well those publications have treated her, but is unfair, given that they were created decades ago to combat the same issue that proponents of the boycott have identified in this year's Oscar nominations.
[image via screenshot]
For more from Lindsey, follow her on Twitter.
Have a tip we should know? tips@mediaite.com