Whoops! Director Lars Von Trier's 'I'm A Nazi' Comments Got Him Booted From Cannes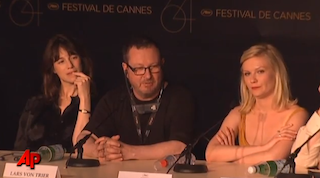 Yesterday, we admired troublemaking director Lars Von Trier for getting his movie Melancholia a bunch of press by telling people he was a Nazi. And look, he's still getting headlines today! Wow, I guess pretending to be a Nazi is the best promotion idea ever! Hmm, lets just see what these headlines say…hmmm…"Cannes Bans Von Trier After Hitler Remarks." Oh…I see.
Yes, it looks like that little bit of rabble-rousing has backfired. Of course, it became clear that that was happening almost immediately. Melancholia's post-premiere party was canceled and Von Trier was forced to make an apology, releasing this statement:
"If I have hurt someone this morning by the words I said at the press conference, I sincerely apologize. I am not antisemitic or racially prejudiced in any way, nor am I a Nazi."
However, that wasn't good enough because, today, the Cannes board of directors released a statement of their own:
"The Festival de Cannes provides artists from around the world with an exceptional forum to present their works and defend freedom of expression and creation. The Festival's Board of Directors, which held an extraordinary meeting this Thursday 19 May 2011, profoundly regrets that this forum has been used by Lars Von Trier to express comments that are unacceptable, intolerable, and contrary to the ideals of humanity and generosity that preside over the very existence of the Festival.

The Board of Directors firmly condemns these comments and declares Lars Von Trier a persona non grata at the Festival de Cannes, with effect immediately."
Of course, Von Trier was clearly kidding. The guy likes to say things just to piss people off, especially when talking to journalists. However, there are a few jokes you just don't make. Being a Nazi? Yeah, that's one of them.
Interesting side note: As movie blog The Playlist points out, Mel Gibson, a man who's made some fairly anti-semitic comments in the past and didn't appear to be joking, was given a warm reception at the festival just a few days ago. Oh, well.
Anyway, the Associated Press has video of the press conference where Von Trier made the Nazi comments. Watch it below and especially watch Melancholia star Kirsten Dunst trying hard to hide her clear discomfort. I'd say it's her best performance since The Virgin Suicides. And I love The Virgin Suicides.
Have a tip we should know? tips@mediaite.com