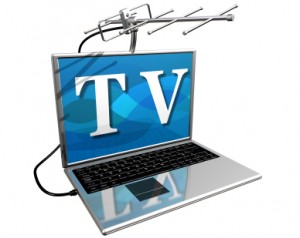 As technology progresses, business models change. Consumer habits make way for new avenues to watch media. And yet, it seems that even with the rise of the internet, there has been a rather lethargic embrace of an ever-expanding online audience from the broadcast networks. Fewer people watch TV shows live anymore when they know they're going to be able to watch it tomorrow on Hulu. Services like Hulu and Netflix draw in more people to shows past and present, which could be a great boon to the networks, if only they learned to fully embrace it.
RELATED: NBC Would Like Everyone To Turn Off The Internet For The Duration Of The Olympics
The reason I'm bringing this up is because of the mess this weekend involving Dan Harmon, the showrunner of NBC's Community. He was basically fired and replaced by two other guys who will most likely be retooling the show to appeal to a broader audience. Now, Community may not be the most-watched show on NBC (far from it), but it has one of the biggest and most active online audiences of any TV show. Andy Forssell, the vice president of content at Hulu, said that for their business model, they prefer Community to shows like The Big Bang Theory because "while it's a smaller audience, it's an audience that self-organizes online."
As of 2010, 26 percent of U.S. consumers watched TV shows online multiple times a week. Hulu, Netflix, and even YouTube are developing original programming. (I can't be the only one who's been seeing those WIGS ads everywhere on YouTube.) So what is with the resistance from TV networks to embrace the internet? Fewer and fewer people really care about TV scheduling. Last month at a conference run by the National Association of Broadcasters, Digitas executive Ashley Swartz argued that the TV advertising model has largely not changed even with all the new opportunities the internet has to offer.
[A]dvertisers continue to primarily spend on traditional TV units, to allocate most of their budgets months in advance, Swartz said, even though changes in the digital media market — and market opportunities — continue to come at a rapid rate. Some broadcasters might take that as good news — why rush change and disrupt the revenue model that's working for you.

But the problem, Swartz argued, is that because broadcasters still see most of their money in TV, they're neglecting the money they can be making online.

"The misperception needs to get thrown out that [the online] audience is less valuable," Swartz said. "I remember buying media five years ago, and the TV guys would throw in all the Web stuff for free. Based on what I've seen from the upfronts, their approach to second screen is not much different. They don't know how to value it, what the value of an audience or viewer is versus what it is on the big screen. There's such a chasm.… So they may let it be a loss leader."
All the networks seem to be doing is paying lip service to the idea that an online audience exists. Over half the programming I watch now has hashtags on the lower third. During a few of its shows, FOX proudly chooses someone who's liked that show's Facebook page to be the "Fan of the Week." It's literally the least they can do to acknowledge their online fanbase exists. A more recent poll by Adweek finds that not only are 77 percent of people in the younger demographics are watching TV online, but 64 percent of the 55 and over demographic are watching online.
To be blunt, it's not a bad thing for shows to be popular online and be rated poorly on TV. Judging by that one metric alone can lead networks to make bad decisions. Online viewership may fluctuate from time to time, and certain shows may be watched online more than others, but overall these numbers will shoot up. There's no denying it.
HBO has only half-succeeded here. In the win column, they created more interest by putting up the premiere episodes of Girls and Veep on YouTube for a week after their TV debut. They have great shows with powerful online followings (Game of Thrones, anyone?), but basically the only way you'll be able to watch HBO shows online is if you are already an HBO subscriber via your cable company or Verizon FiOS. In other words, HBO is doing its best to punish its online audience by making sure they have to buy a separate service first before watching.
RELATED: Panel Nerds: Television's Golden Age
Networks, don't punish your online audience. These people want to watch your programming, but you don't seem to want to cater to them. This is an ever-expanding audience you're going to face in full force at some point in the future. It's better to embrace it now before it's too late and you're getting your metaphorical rear ends handed to you by YouTube shows.
Have a tip we should know? tips@mediaite.com
Josh Feldman - Senior Editor