Why Can't Republicans Take Personal Responsibility for Blowing Off 50th Anniversary March?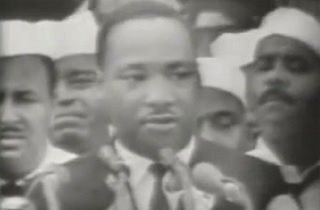 On Thursday night's The O'Reilly Factor, Fox News host Bill O'Reilly apologized for saying that no Republicans had been invited to Wednesday's 50th anniversary of the March on Washington program, commemorating Dr. Martin Luther King, Jr.'s historic "I Have a Dream" speech, and took responsibility for assuming this was the case instead of checking. The Republicans who were invited, however, have shown no inclination to take responsibility for their decisions not to show up, and are, instead, blaming organizers of the event for not letting them pick the speakers.
Organizers of the event have been accused of snubbing Sen. Tim Scott (R-SC), the only African-American currently serving in the U.S. Senate, but Roll Call reported, Thursday, that Sen. Scott's office emailed organizers on August 9 to say he would be unable to attend, and wouldn't even be in DC for the event. According to an ABC News report filed several hours after that revelation, however, the RNC is complaining that, after a metric fuckton of Republicans had already declined invitations, event organizers should have let them pick the speakers, including a guy who had already told them he wasn't available:
After it became clear that big-name Republicans like the Bushes were not going to be able to attend, RNC officials offered help in finding one or more appropriate Republican speakers, according to Sean Spicer, the RNC's communications director.

"We were very proud of our efforts to commemorate this historic event, which we did in several ways over the last few days," Spicer said. "Furthermore, we offered up assistance to the organizers of the event — our assistance in facilitating any Republican speakers that they would be interested in having."

Starting August 14 – two weeks before the commemoration — GOP officials offered help in reaching out to a range of other Republicans. That list, according to an RNC official, included Scott, who is the only African-American currently in the Senate; former Rep. J.C. Watts, R-Okla., who is black; and T.W. Shannon, the 35-year-old African-American speaker of the Oklahoma House of Representatives.
ABC's Rick Klein also reports that, after all of the other Republicans had blown them off, the event's organizers invited Mike Huckabee, who said he couldn't "rearrange things" like the radio show he put on during the event Wednesday, which could have been broadcast live from the event if Huckabee had wanted to. Minutes after President Obama concluded his speech on Wednesday, Huckabee did tweet out a song parody blasting First Lady Michelle Obama's efforts to get kids to eat healthier, so there's that.
In fact, others have reported on what Republicans chose to do instead of speaking at the event, including meeting with oil lobbyists and having no public events. Sen. John McCain was invited to speak, but declined, citing "scheduling conflicts," which apparently included an immigration roundtable with a Phoenix business group called the Greater Phoenix Economic Council. A "scheduling conflict" is another way of saying that you had something more important to do, but for some reason, ABC's Rick Klein didn't report what any of those more important things were. He also didn't note the generosity of organizers in inviting McCain, who voted against the Martin Luther King, Jr. federal holiday, and supported its rescission in his home state a decade later.
Klein does report, however, that after being blown off by all of the Republicans they invited, organizers "reached out late in the planning process to the office of Rep. James Sensenbrenner, a veteran congressman from Wisconsin who has been prominent on voting-rights and sentencing-reform issues."
He declined, although he did make it to an RNC event commemorating the march. Rep. Sensenbrenner, like McCain, also voted against making Dr. King's birthday a federal holiday. In fact, 95 Republicans voted against that law, many of whom are still in Congress. Additionally, one of the 17 Democrats who voted against the holiday is now a Republican, Sen. Richard Shelby (R-AL). Somehow, the party that fought against recognition of Dr. King has become the victim in their own snubbing of an important King commemoration, and the organizers, who invited two people who fought the King holiday to speak, are somehow the villains. It's anyone's guess why ABC News is choosing to abet the GOP's PR rear-guard action, but if they didn't want people to think that the "I Have a Dream" commemoration was less important than meeting with oil lobbyists and local business groups, or just chilling in Jackson Hole, then they should have shown up, and Rick Klein should explain where they were when they didn't.
[photo via screengrab]
Podcast: Play in new window | Download
Have a tip we should know? tips@mediaite.com