Why Did GQ Pull Naomi Campbell's Hugo Chávez 'Rebel Angel' Interview…Yesterday?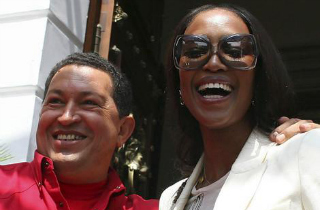 In the wake of Hugo Chávez's death Wednesday afternoon, British GQ re-published an interview in which British supermodel Naomi Campbell fawned over the "rebel angel" Venezuelan autocrat.
Within hours, however, the piece was mysteriously scrubbed from the site. Was this a protective PR demand from Campbell's people? After all, she's in the midst of promoting her new Oxygen reality show?

After reading Campbell's "25 Things You Don't Know About Me" piece in Us Weekly today, in which the supermodel boasts about conducting a 2007 sit-down with Chávez, our sister site Styleite became curious to find that interview.
What did they find? Well, the re-published "When Naomi Met Chavez" interview was available in the morning. But a few hours later, it was gone: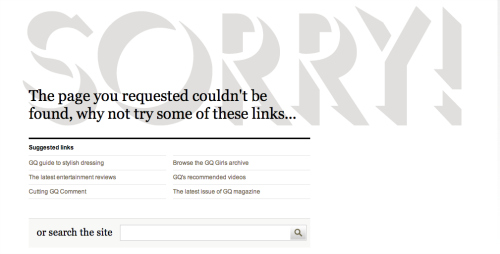 The discussion between Campbell and Chávez originally ran in the British magazine's February 2008 edition. The website republished the interview in 2010 to coordinate with the release of Oliver Stone's South of the Border documentary about the Venezuelan president.
And after news came of Chávez passing, British GQ again reposted the piece with an introduction reading:
"To mark the death of Hugo Chávez last night, we are re-publishing Naomi Campbell's Q&A with the Venezuelan leader for GQ. The two discussed oil wars, the end of America, surviving a military coup and why Christ and Castro are the greatest revolutionaries of them all."
In the actual interview itself — which some may remember as controversial even back in 2008 — Campbell calls the Venezuelan leader a "rebel angel" and glosses over the president's well-known human rights abuses. "I found him to be fearless, but not threatening or unreasonable," she wrote of her meeting with "the man himself."
At one point, she asks him if he'd ever go topless like Russian president Vladimir Putin. "Why not? Touch my muscles!" Chávez said. Elsewhere, she asks him if he knows the Spice Girls.
Her adulatory treatment of Chávez only served to fuel (unsubstantiated) rumors that the two were having an affair. After his passing, Campbell was included in an article about "the many lovers of Hugo Chávez."
Suffice it to say, at a time when most are discussing Chávez's brutality and iron-fisted reign — others are eulogizing him, yes — a revisiting of Campbell's interview with the heavy-handed "democrat" would not reflect well upon the supermodel.
Campbell, you see, is in the middle of her brand-new Oxygen reality modeling competition series called The Face. Co-judging the series with the much less controversial models Coco Rocha and Karolina Kurkova, the Chávez interview might not be the "look" she wants four weeks into the show.
We reached out to British GQ and asked them why they would have suddenly pulled this relevant interview. So far, the magazine has yet to provide comment.
— —
>> Follow Andrew Kirell (@AndrewKirell) on Twitter
Have a tip we should know? tips@mediaite.com