Why Did This News Anchor Announce: 'Tonight, I'm Going To Sound Like A Drunk'?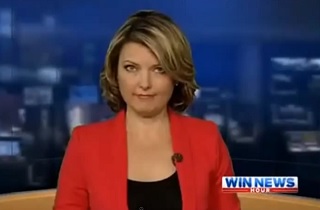 There's an old show business expression that goes "Well, it worked in rehearsal," but try telling that to Kerryn Johnston, news anchor for Australia's WIN News Canberra. She capped off her first month as WIN newsreader by making a joke during a rehearsal for the evening newscast, which was then broadcast in place of the midnight repeat, and promptly went viral.

After struggling through a few news teases, Johnston perfectly deadpanned "Good evening. Tonight I'm going to sound like a drunk."
As news bloopers go, it could have been a lot worse, and Johnston can take solace in the fact that this one really wasn't her fault. From The Syndey Morning Herald:
On Wednesday night, this technical rehearsal for the live 6.30pm bulletin was inadvertently put to air at midnight. A technical rehearsal before a live bulletin is done to ensure audio and lighting levels are correct.  Johnston is the new WIN Canberra  news reader. When the midnight replay of the live 6.30pm bulletin was put to air, the recording was cued at the wrong start point.

In a statement, WIN said Johnston was embarrassed by what occurred and that she had stumbled over her words in the technical rehearsal and said a throwaway line in self-deprecation.

The WIN Network's director of news Stewart Richmond said Johnston's high standards made it even more difficult for her.

"This is a newsreader who sets a very high standard for herself. To have it go to air when it was not intended to, has been more than embarrassing for her.
"Kerryn has been presenting news for over two decades and has never put a foot wrong. I'm sure our viewers will understand.''
With over half-a-million views on Youtube, I'm sure viewers will forgive the gaffe, but they're not likely to forget. Think of it this way, though. At least no chickens were harmed in the making of this blooper.
Have a tip we should know? tips@mediaite.com