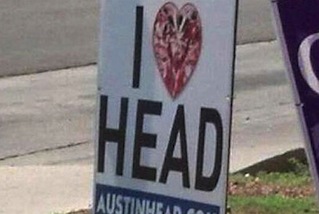 Seven of Phoenix City Council candidate Austin Head's "I Heart Head" campaign signs have gone missing, and he doesn't think they're just blowing away.
Head, a twenty-one year old event planner and one of seven candidates for the council position, drew up the signs—with the heart represented by a ♥ symbol, as the kidz like to do it—to help close the distance between himself and his more experienced opponents.
"It has absolutely helped my campaign," Head reported. "My opponents have instant name credibility being the son of the former mayor and the daughter of a congressman. The other opponents have all been political types who've run in races before. This is my first campaign, and I certainly need this name recognition."
One sign was seen being taken by lousy nogoodnik teenagers, but Head doesn't know who is making off with the others. "It could range from kids who want to put it on their walls to conservative people who don't want to have it on the street or something," Head said.
Either way, this is one of the most entertaining results of a local candidate's name since Austin, Texas mayoral candidate Will Wynn's moniker led to those "Will Will Wynn Win?" headlines. And even if Head doesn't win the upcoming election, it sounds like he now has a fallback plan: "I've had a lot of e-mails from people who want T-shirts and stickers that say 'I Heart Head,'" the candidate said. It's an uprising!
Read the full article HERE.
[h/t AZCentral.com]
—
>> Follow Evan McMurry (@evanmcmurry) on Twitter
Have a tip we should know? tips@mediaite.com