Why Do We Have to Sit Through the State of the Union? Because of Woodrow Wilson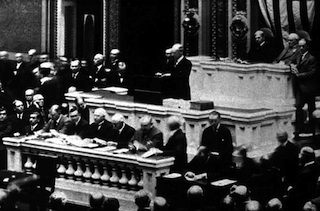 The practice of the State of the Union is an important one, as it momentarily focuses the cacophony of political discourse on a single, relatively uninterrupted statement of policies, and forces political opponents to at least appear civil to one another.
There's also no denying SOTUs average 40 minutes too long* and are soggy with pro forma messages indistinguishable from previous liturgies. So why do we have to sit through it every year?

Thomas Jefferson first made the State of the Union a written address, fearing that the oral one was too similar to the practices of the British Parliament from which the new nation was trying to separate itself. That held until Wilson in 1913. His own number one fan, as you'd expect from any leader who would go on to literally remap the world, Wilson returned to the oral tradition under the theory that the presidency had become too remote.
"I shall ask your indulgence," Wilson said to Congress, "if I venture to depart in some degree from the usual custom of setting before you in a formal review of the many matters which have engaged the attention and called for the action of several departments of the Government or which look to them for early treatment in the future, because the list is long, very long, and would suffer in the abbreviations to which I should have to subject it." It was ever thus.
The SOTU has since been mostly delivered before Congress, sometimes as both a written and spoken address. The last time there was no oral State of the Union delivered to Congress was in 1956, when Eisenhower submitted a written document to the legislative branch and summarized it to the public on the radio, forgoing the congressional pageantry.
The dictates of the cable news age would appear to all but guarantee an oral (and thus filmed) address, though we can't be that far away from the State of the Union in 10 Taylor Swift Gifs.
* The longest, unsurprisingly, was delivered by the Stemwinder Himself, Bill Clinton.
[h/t The American Presidency Project / Baltimore Sun]
[Image via screengrab]
——
>> Follow Evan McMurry (@evanmcmurry) on Twitter
Have a tip we should know? tips@mediaite.com