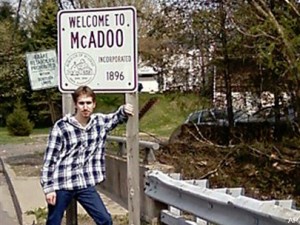 The wife and mother, respectively, of the father and son duo accused of stalking Sarah Palin is speaking out about her relatives, and the portrait she paints of her 19-year-old son (pictured) is one that would make any mother envious: He's gifted. He's sweet. He's good with animals. He's helpful. He can jump over buildings in a single bound. He can bake cookies using only his mind, etc. It's a picture that is extremely at odds with the image one might form of a young man who admitted that he threatened to rape the former Governor of Alaska and who — along with his father — is accused of sending a series of creepy and threatening phone calls and text messages to Palin and those close to her.
The Daily Beast's Diane Herbst provides a fascinating (and/or confusing and/or infuriating and/or incredibly sad) interview with Karen Christy, the wife of Craig Christy and mother to Shawn Christy. According to Ms. Christy, the root of this fiasco is none other than Willow Palin, Sarah Palin's second eldest daughter, who made headlines of her own for writing a slur-laden Facebook rant.
Here's what we know so far:
Last year, Palin successfully obtained restraining orders against both father and son after she says they sent several harassing text messages and phone calls to her and to her family members, including her children and parents. (In fact, Karen herself is accused of making two calls to Palin's parents.) Shawn also admitted in court that he had sent Palin several emails and gifts, and that he had threatened to rape her, but denied allegations that he had threatened her daughters. Palin testified by phone, telling the court that she had perceived Shawn's visit to Alaska on her birthday as a threat and that his parents had accused her of carrying on an inappropriate "sexting"-based relationship with their teen son:

I believe when he traveled to Alaska on my birthday, he did that so he could prove that he had the means to do so. I believe that his and his parents' repeated contact with those close to me to get me to respond to their false and very, very bizarre allegations constitutes a — obviously, a problem — on their end.
Both Shawn and Craig are accused of having made hundreds of harassing and threatening phone calls to Palin's Alaska-based attorney, John Tiemessen, and to employees at his firm between August 1st and 9th. An affidavit details the nature of these calls, which allegedly included anti-Semitic slurs and threats, made by Shawn, to anally rape Tiemessen in addition to death threats made by Craig.
And here is what Karen told the Daily Beast:
In 2008, after she was named John McCain's running mate, Shawn contacted Palin's office in an effort to find out more about her positions on various topics.
In 2009, she says, her son began receiving text messages and phone calls from "who we believe is" Willow Palin. She says that Sarah Palin would also send him texts from time to time, and that some of these texts were sexually explicit in nature. However, Karen maintains that she does not know exactly what these alleged text messages said.
Karen says that the restraining orders placed by Palin's people resulted in her husband losing two jobs. The family found themselves strapped for cash and frustrated at not being able to "communicate with legal officials involved with the restraining orders," so Shawn flew to Alaska to "do some law research." This is the trip Palin referred to in her testimony.
Earlier this summer, Craig and Shawn asked an Alaska court to drop the restraining orders against them… and attempted to obtain the address of Palin's part-time home in Arizona.
Both Craig and Shawn, who live in Pennsylvania, will be transported to Alaska to face further proceedings.
h/t The Daily Beast
Have a tip we should know? tips@mediaite.com