Wikileaks And The Pentagon Disagree On Whether They Have Talked To Each Other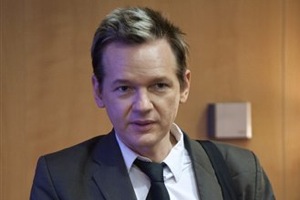 According to Wikileaks primary entity Julian Assange, the Pentagon has agreed to talk about working with the whistleblowing organization to help them in releasing the remaining 15,000 Afghan War files Wikileaks has promised to publish online after their initial 90,000+ document leak. Except, according to the Department of Defense, those talks never happened.
According to Assange, while the Pentagon does not seem to have agreed to anything concrete,"this week we received contact through our lawyers that the General Counsel of the U.S. Army says now that they want to discuss the issue." When asked to specify who he meant by that, he said he "misspoke" and actually meant the "general council of the Pentagon," not the US Army specifically, and that there had only been established a line of communication and nothing more.
While originally writing this post, I had noted that the likelihood of a falling out is probably high, and that the fact that the military seems to have established contact with the organization in a way that elicited an optimistic response from Assange is a big change in policy. After all, there's a fair deal of drama between the two organizations, and about every single sentence from one party seems to be consistently dismissed as lies by the other. So it comes with little surprise that it took about an hour for the Pentagon to completely deny any communication with Wikileaks. According to the AP:
The Pentagon is denying it had direct contact with WikiLeaks and says the military is not interested in helping the website review classified war documents to post online. Julian Assange is the website's founder. He told The Associated Press Wednesday that the Pentagon's lawyers are willing to help the self-styled whistleblower review a cache of about 15,000 leaked Afghan war reports for information that could harm civilians.

But Defense Department spokesman Bryan Whitman said there has been no such contact.
Until now, the Pentagon's relationship with Wikileaks has been mostly characterized by a series of thinly-veiled threats to not publish new material and comically aggressive tweets in response from the Wikileaks Twitter account, which is assumed to be run by Assange. Another recent spat involved the Pentagon's assertion that they had not had any "direct" contact with Wikileaks, which the organization cited as a "rhetorical trick" to dismiss the fact that they had tried contacting the Pentagon using the New York Times as an intermediary. This he-said, she-said seems only to continue the tradition.
[Photo via AP]
Have a tip we should know? tips@mediaite.com