WikiLeaks Documents Reveal That U.S. Paid Afghan Media For "Friendly" Stories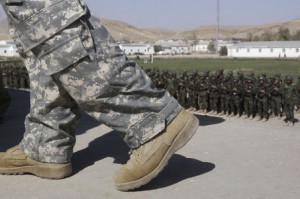 The headline on this post shouldn't surprise you too much. Government propaganda, particularly during wartime, is hardly unheard of. Amid the more than 90,000 WikiLeaks-released documents relating to Afghanistan, there is this: the United States paid the Afghan media to run "friendly stories."
According to Yahoo News, leaked files show that the U.S. military has been essentially bribing the local media in Afghanistan:
Several reports from Army psychological operations units and provincial reconstruction teams (also known as PRTs, civilian-military hybrids tasked with rebuilding Afghanistan) show that local Afghan radio stations were under contract to air content produced by the United States. Other reports show U.S. military personnel apparently referring to Afghan reporters as "our journalists" and directing them in how to do their jobs.
Furthermore, this has happened before. Quite recently. In Iraq. And it didn't go down well that time either:
In 2005, Pentagon contractor the Lincoln Group was caught paying Iraqi newspapers to run stories written by American soldiers, causing the United States considerable embarrassment.
What's interesting is that there are several messages in the leaked files in which U.S. soldiers refer "to local Afghan media as extensions of their own units rather than independent reporters. In 2007, after insurgents attacked an Afghan National Police convoy, a member of Task Force Rock wrote that 'we … had our journalist conduct an interview with the Afghan National Police District Chief who condemned the attacks on their fellow countrymen.'"
When the purpose of the American presence in the region is said to be counter-terrorism or nation building, it's not too far-fetched to wonder whether this is kind of manipulation goes against that repeatedly-stated mission. The U.S. claims it wants democracy in the region, yet is interfering in one of democracy's most valued institutions: the free press.
Have a tip we should know? tips@mediaite.com