ABC's David Muir On BP Disaster: 'Who's In Charge' Has Been 'An Exasperating Question'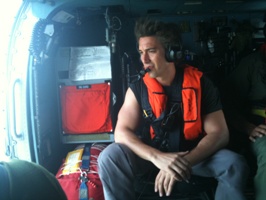 ABC News anchor and correspondent David Muir has seen the BP oil disaster from the air and the ground, from Louisiana and Mississippi.
Now 100 days in, we talked to Muir today about why Tony Hayward resigned at this particular moment, the political red tape and more.
You can hear the full BlogTalkRadio interview below, which took place this afternoon. It is the second in our new series, "Live From The Gulf", in which we talk to reporters and anchors who have covered the oil disaster over these past 100 days. Tomorrow we'll talk to Fox News' Jonathan Serrie. (Listen to last month's "Live From The Spill" podcast series.)
Here are a couple key exchanges from Muir, with the full interview after:
(2:30) Mediaite: Have there been any positive effects at all for the people in the region?
Muir: Well I think one of the things, I was down there in May and then in June, and fishermen, whose boats were docked…many of them had signed up with BP to get out there and begin skimming. For people that have followed this story really closely you know the fisherman have to outfit their boats in many cases, they go through training, they get certified and then their name goes on this list. And then they wait for the call. There had been a lot of frustration, they needed to find a way to make money somehow. And one sign has been the people who we followed along the way…have been out there and have been hired by BP.
(7:25) Mediaite: One of the things we heard from a lot of reporters was the BP communications arm was not really doing enough to be as transparent with the American press. Do you see that has gotten better?
Muir: I think it's gotten better but I don't know if that's because they've wanted to get better. I think when the news gets better people always are a little more eager to get the word out…The communication has been a huge challenge and the bureaucracy of course. The question of who's in charge was one of the exasperating questions of all of our trips down there.
Here's Muir's response to this tweet today from CNN contributor and RedState.com editor Erick Erickson: "Growing evidence points to the U.S. government causing the BP oil spill and not BP" (Below, the full podcast):

Check out the full interview here, including Muir's response to being dubbed part of the "GQ Brigade" covering the Gulf Coast:

—–
» Follow Steve Krakauer on Twitter
Have a tip we should know? tips@mediaite.com