WikiLeaks Springs New Leak, Further Calling Into Question Motives Of Julian Assange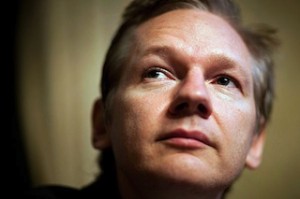 Last Friday, Der Freitag, a German news weekly that works under a syndication agreement with The Guardian, published a story with the headline, replete with recursion: "Leak at WikiLeaks." In the story, editor Steffen Kraft claims to have found a "password protected .csv file" containing more than 1.73 GB of diplomatic cables originating from WikiLeaks, all entirely un-redacted.
The file, he says, contains some already published leaks as well as many more yet unpublished reports. Unlike cables past, these cables are all entirely un-redacted, and they include sensitive discussions of U.S. embassy staff from Israel, Jordan, Iran and Afghanistan who are named or otherwise identifiable as "informers" and "suspected intelligence agents." Although self-proclaimed harbingers of free and open information, WikiLeaks has in the past maintained certain caution when releasing information because the release of such sensitive information can put lives at risk. This time around, that danger seemed not to be the issue.
"The password for this file is plain to see and is familiar with the matter identified," Kraft reports. And although he was unsure at time of press as to whether the leaks were full, unedited, and legitimate, Der Spiegel has since confirmed their existence. For those looking, it sounds, the information is there.
The media's quick insinuation of WikiLeaks spokesman turned outspoken Julian Assange-critic Daniel Domscheit-Berg goes to imply that WikiLeaks original intentions have long since been dwarfed by the organization's monstrous personalities. The two men have been battling publicly for some time now. Last week it became news that Domscheit-Berg had "shredded" more than 3,500 unpublished documents on his way out of WikiLeaks. He told Der Spiegel at the time that he did not trust Assange with the safe handling of the documents, and that he deleted the files "in order to ensure that the sources are not compromised." In a responding statement, Assange seems to insinuate that Domscheit-Berg had interest in working with the government. It seems likely that Domscheit-Berg might have released these files in retaliation, and possibly with hopes of putting Assange's entire operation at risk. In doing so, however, he is also putting a vast number of individuals at risk.
As TechCrunch's Paul Carr points out, a leak of this sort probably inevitable. "What we see time and time again from mass-leakers is a sociopath's disregard for individuals, combined with a Hollywood serial killer's hunger for attention," he writes. And, "sooner of later — for attention, to make some misguided political point, for the lulz — someone was bound to obtain and leak the raw documents."
In a twitter today, Wikileaks says that "Current story being spun about wild cables, includeing from Spiegel, is significantly incorrect."
Have a tip we should know? tips@mediaite.com