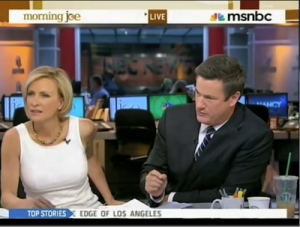 Last week Brian Stelter of the New York Times reported Joe Scarborough's radio show was going on "immediate hiatus" in order to "revamp and expand" the program – something Don Imus disputed.
The biggest station that carried Scarborough's radio program was WABC in New York, and no one is willing to say the program will ever return to the station.
Imus predicted it when he said "He will never ever be on WABC in New York again"…and a lot more. And Scarborough fired back with tweets about ratings and Imus personally. But something he never disputed was the charge that the show wouldn't return to WABC.
So we began looking into it. Mediaite contacted WABC's program director Laurie Cantillo who declined to comment, and pointed to the press release put out by Citadel Broadcasting. In the release, no mention is made of WABC. Also, notably, all mentions of Scarborough and co-host Mika Brzezinski have been removed from WABC's website.
We contacted Farid Suleman, Chairman of Citadel, who did not return repeated requests for comment. We emailed Meg Robertson, executive producer of the Scarborough radio show, several times and received no response. It appears from her Twitter feed Robertson remains EP of the 10amET hour, currently with guest host Mark Simone. Scarborough also had no comment.
The Times story and the release hint at an "expanded" show, which would indicate a three-hour broadcast instead of two. It would be hard to see how a three-hour show could fit at WABC, which is more than set with powerhouse Rush Limbaugh occupying the Noon-3pmET timeslot. If Scarborough and Brzezinski's radio show does return in the future, maybe it would be at a station with a smaller audience in New York or out of the New York market altogether. During Scarborough's time as MSNBC host, several incarnations of a radio program have come and gone, almost always with the spin of expansion or revamping.
While Scarborough is right when he says the program was beating Glenn Beck in the New York market, a point of pride since Beck's national numbers far surpass that of Scarborough, several months over the last year Beck's show edged out Scarborough, and WABC is a far bigger station than Beck's WOR.
We would welcome further explanation on this from anyone affiliated with the former show, or currently at WABC. The fact that no one would confirm the show's return, or even potential return, leads to very reasonable questions that the program may not be simply on a hiatus – it may be the program doesn't return at all.
—–
» Follow Steve Krakauer on Twitter
Have a tip we should know? tips@mediaite.com