Willie Geist's American Freak Show Focuses On Sarah Palin, Bill Clinton… And A Certain CNN Host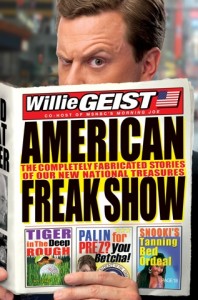 Who do you think are the most recent American "freaks"?
According to his new book, American Freak Show, Willie Geist found a lot of them: Tiger Woods, Sarah Palin, Levi Johnston, Blago, Lindsay Lohan and many more.
We talked to Geist about his new book last week during Office Hours. The book kicks off with the text for the 2013 Inaugural Address Sarah Palin will make after she is elected President (it takes place at a WWE event – no word if Linda McMahon is in attendance):
Hey Katie Couric, you wanted to know what I read? Well I'm President now, so look real close here, see if you can read this, biaaaaaatch! (thrust middle finger in the air to wild cheers) The Mama Grizzly is President!
That's just a portion of it, but gives you an idea what to expect from the book. And in case you were worried it wasn't fair and balanced, there is a biting chapter involving an email exchange between Bill Clinton and Hillary Clinton when she was on the campaign trail in 2008. Let's just say it doesn't exactly paint a beautiful image of their marriage.
Then there was a chapter based on the final episode of a hypothetical season of The Bachelorette. The final two contestants? Mark Sanford…and Eliot Spitzer. "This was well before he launched into his cable news career," Geist told us on Office Hours. "It's not a terribly flattering chapter."
Geist said this thought crossed his mind as the book was already done and Spitzer was crossing over to cable news:
Is Eliot Spitzer going to MSNBC, is he going to CNN? I have nothing against him personally I'm merely writing about some things that happened in the public sphere. But in the back of my mind I'm going, 'Dear God, don't let him go to MSNBC!' I don't know how I'm going to explain this one. So I'm happy on many levels that Eliot Spitzer ended up at CNN. I wish him nothing but the best.
As for how he thought Parker Spitzer went last week, Geist is holding off judgment. "Working in TV, I'm terribly sensitive to people who are doing their show for the first time," he said.
Here's the full interview with Geist, including a mention of "strange emails" he gets from Rachel Sklar:

—–
» Follow Steve Krakauer on Twitter
Have a tip we should know? tips@mediaite.com