With 24/7 Election Obsession, Many Outlets Have Overlooked the Deaths of Six Elite Green Berets Last Week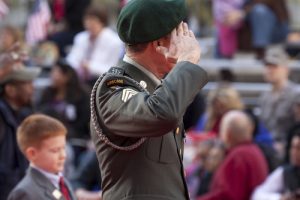 This past Friday, three Green Berets in the US Army were traveling in a convoy which was about to enter a military base in Jafr, Jordan. Twenty-seven-year-old Staff Sgt. Jimmy Moriarty of Kerrville, TX was traveling in the convoy along with 27-year-old Staff Sgt. Matt Lewellen, of Lawrence, KS, and 30-year-old Staff Sgt. Kevin J. McEnroe of Tucson, AZ. The convoy came under attack, and the three men died.
"This is a young man who loved serving in the Army, was where he wanted to be, doing what he wanted to do," wrote James Moriarty on Facebook about his son Jimmy.
"He was proud to serve his country, and he loved the men and women with whom he served," Lewellen's family added in a statement to the Kirksville Daily Express. "We are so proud of Matt and all he accomplished. He was a man of faith and action."
The day before the attack in Jordan, two Green Berets were killed in a firefight with Taliban forces in Afghanistan. Capt. Andrew Byers, 30, and 34-year-old Sgt. 1st Class Ryan Gloyer, lost their lives in the firefight.
The day before that, another Green Beret, 30-year-old Staff Sgt. David Whitcher, died in a dive training exercise off the coast of Florida.
Six Green Beret deaths in 72 hours.
Is this the first you're hearing about it?
If you're a frequent cable news watcher, chances are, it is. Searches on the media monitoring website TVEyes.com yielded minimal results for the names of the solidiers, the places where they died, and the term "Green Beret," during the past six days on CNN, MSNBC, and Fox News (which covered these deaths the most by far, specifically the attack in Jordan.) Per TVEyes, Jordan the country was referred to only once since the attack on CNN. Congressman Jim Jordan (R-OH), in that same span, was mentioned twice.
Conversely, how much have you heard in the past few days about Ted Nugent groping himself at a Donald Trump rally? Or about Jay-Z's profane concert in Philadelphia at a Hillary Clinton rally? How many times have you heard FBI director James Comey's name in connection with the Hillary Clinton email investigation? How many pundits have you seen go on, and on, and on, spouting the same useless insider terms about Trump's electoral "path," or whether Trump can "flip" Michigan, or whether the Clinton "firewall" will remain intact?
This absolute dumpster fire of an election has caused us to lose sight of what's really important. The deaths of six Green Berets, absolutely among our finest in the Armed Forces, have gone woefully ignored. Instead, we have devoted all of our time and attention to a mind numbing sideshow.
The Green Berets truly are remarkable. Here's a bit about their incredible history from Military.com:
Their linage dates back to more than 200 years of unconventional warfare history, with notable predecessors including the Revolutionary War Swamp Fox Francis Marion, the WWII OSS Jedbourg Teams and Detachment 101 in Burma, as well as the Alamo Scouts. Since their establishment in 1952, Special Forces soldiers have distinguished themselves in Vietnam (17 Medals of Honor), El Salvador, Panama, Desert Shield/Storm, Haiti, Somalia, Bosnia, and Kosovo. Most recently, SF has played a critical role in Destroying Taliban/al-Qaeda in Afghanistan, rooting out insurgents in Iraq, training foreign troops to fight terrorists or drug warlords, and crossing the globe to liberate the oppressed.
"(T)hey are in dark corners of the world and even their training is very dangerous," wrote Jen Paquette, executive director of the Green Beret Foundation.
And yet the sacrifice of these six brave men has been overlooked to a tragic degree.
This criticsm is not directed at a particular outlet. It is directed at every outlet. From the cable news networks, to the broadcast networks, to the news websites (including us), we have collectively, unequivocally failed.
Maybe this is why people don't trust us.
Tomorrow (or perhaps early Wednesday), a nightmarish election which began in earnest on March 23, 2015 comes to its merciful conclusion. But while America waits breathlessly for the announcement of its new President, James Moriarty — father of Staff Sgt. Jimmy — is likely to have the TV off.
"I simply do not want to wander into the cesspool that passes for politics in our country," Moriarty said.
–
Joe DePaolo is the Sports Editor for Mediaite. He also contributes to the site's news and political coverage. Follow him on Twitter (@joe_depaolo)
[image via Glynnis Jones – Shutterstock.com]
This is an opinion piece. The views expressed in this article are those of just the author.
Joe DePaolo - Senior Editor