With Attacks Ceased and Praise Increased, Trump-Megyn Kelly Cold War Now at Cease-Fire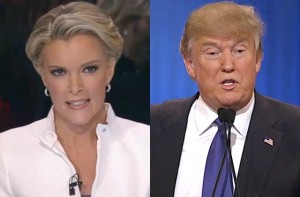 For all the bluster, red meat, reading material, and booze served up (literally) by yet another series of Donald Trump primary victories from Mississippi to Michigan to Hawaii Tuesday night, one very noticeable aspect of his usual Modus operandi has been noticeably absent:
Attacks on Fox's Megyn Kelly…
As many of you recall, Trump went ballistic after Fox's first GOP debate in August (which feels like three years ago) following a very fair question from Kelly regarding his past comments about certain women. He would go on to relentlessly mock her on Twitter, in interviews. Trump even told CNN's Don Lemon the following night it looked like "blood was coming out her eyes, coming out of her… whatever."
Kelly never responded in kind, because she's smart enough to understand the true value of her brand and how to handle a situation where she was clearly being baited. Note: This was always a a one-way fight she never wanted. Because if she ever retorted after the comments to Lemon or to any of the other dozens of times Trump challenged her personally, she forfeits being seen as a serious journalist embraced by all stripes on the ideological scale. Doubt her wide appeal? It's why she gets Richard Dreyfuss or Michael Moore to appear on her show, as she has recently. It's how she gets a cover profile in Vanity Fair, not exactly common territory for any cable news personality, especially those from Fox News.
Some say guests like Dreyfuss or Moore aren't good for the FNC brand. I say expanding the tent to viewers who normally avoid cable news and/or Fox News due to preconceived notions without sampling is a good thing. Bret Baier's critically–praised Democratic Town Hall on Monday night — seen by 2.6 million viewers at the relatively early hour of 6:00 PM EST (3:00 PM PST) — is a great example of that argument.
For its part, the New York Times appears to be noticing the same thing. Per its online edition today:
To some observers, the event held the potential for a thaw between Democrats and Fox News, which has not hosted a presidential campaign event with all of the party's candidates since 2004.

"In a sense, it's an opening for them, which I think they've earned in a couple of Fox debates that I've watched," said Howard Dean, a Democratic presidential candidate in 2004 and the former chairman of the Democratic National Committee, who now contributes to MSNBC. Mr. Dean, who joked that he used to call "Fox News an oxymoron," said that the Fox moderators had "portrayed themselves well so far."
For the Sanders campaign, reaching this broad audience was an important goal.

"I don't think we think that boycotting that network is a way to gain political advantage with voters," said Tad Devine, Mr. Sanders's senior campaign adviser. Mr. Devine said he expected to see Mr. Sanders on the network a lot more. "If we have these opportunities in the future, I think we'll try and take advantage of them," he said.
"I always thought it was a mistake to ignore them," said David Axelrod, a former senior strategist to the Obama campaign and White House who now contributes to CNN. He added: "Obviously there's a bent to Fox and the viewer. But they have a pretty large audience, and they're not all conservative Republicans. There are independent voters there."
In a race where many more people are paying attention, particularly those who normally don't vote, Alexrod is right on. To avoid a popular network out of some kind of principle won't work in this unpredictable election season. So if you think that was the first or last time Hillary Clinton, for example, will be appearing on Fox this election cycle after a two-year absence, think again.
Back to Trump-Kelly and that Cold War thaw, let's fast forward from the height of hostility (the first Fox debate in August) to Trump-Kelly II last week. The moderator again asks Trump a tough but fair question around his propensity to flip-flop while questioning "his core" (a nice way of asking if he's full of you-know-what). Trump's answer, believe or not, was actually refreshing: Instead of defending said flip-flops, which can appear so disingenuous and phony when any politician attempts it, he explained that successful people need to have certain degree of flexibility.
Love Trump. Hate Trump. It's answers like those that would otherwise doom any other candidate. But because of the seemingly candid way Trump presents the argument (unfiltered, unscripted), it works for those tired of having their intelligence insulted.
All of that said, the expectation after that second Fox debate was that Trump would take to Twitter again to assume his role as a Stage-5 Clinger (yes, it's a line from Wedding Crashers… I acknowledge that) when it comes to Kelly being the negative focus, but it never happened. And all is quiet on that front since, with Trump even saying "Thank you, Megyn" during a victory speech for her praise of his big Tuesday night. Fox then cut to Kelly back in its New York studio, laughing.
As for Kelly, she openly embraced said speech last night — which was as long as an entire episode of House of Cards and random as your average Family Guy plot (See: all over the place) — for being completely improvised, calling it "refreshing" and "fascinating television".
"That is part of what people love about him," Kelly said. "He is a breath of fresh air from that standpoint, because we have all heard these canned speeches a million times and that was anything but canned."

"It's fascinating television, as Trump has been from the very beginning,"
The gut reaction here as to why he's standing down in his one-way war with Kelly is a fairly simple deduction: Trump is eyeing the general and finally got it through his head that attacking one of the most popular women in America (which she's quickly becoming) just isn't a smart move long-term and lacks a return on investment.
So… it seems the one-sided Cold War between the GOP frontrunner and a Fox host/moderator is now over, or at least at a Ceasefire. The obvious next step should be Trump coming on Kelly's program for a full hour, Town Hall-style, a format CNN smartly turned into a weekly event this election season that everyone else has wisely jumped on board with since.
And while Fox is at it given how well its Democratic Town Hall went Monday night, getting a commitment from Hillary and Bernie to be on stage together for the network's first officially sanctioned Democratic debate since 2004 would go a long way in greatly thawing that other Cold War between Fox and the DNC, too.
— —
Follow Joe Concha on Twitter @JoeConchaTV
This is an opinion piece. The views expressed in this article are those of just the author.