With Bidding War Between Fox and Turner Underway, It's Good to Be Bill Simmons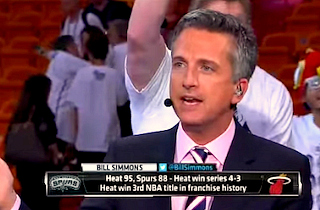 Bill Simmons is probably the best living example of what so many who enter sports media hope to achieve:
– Owner of a loyal, massive audience
– A unique writing style emulated by others in the business
– Author of two best-selling books
– Comedy writer for Jimmy Kimmel Live
– Host of a must-listen-to podcast featuring top athletes, celebrities and even the president
– Editor-in-Chief of his own website (Grantland) with the backing of the most powerful broadcast entity on the planet (ESPN)
– Co-host of an NBA studio show
Add it all up, and Simmons was leading a dream life. "Was" because as you may have heard, Simmons was basically fired by ESPN this week after his contract—which isn't up for four months—wasn't going to be renewed. The decision was made not because Simmons wasn't producing at a high level (listeners downloaded episodes of his BS Report 32 million times in 2013, for example) but rather due to a struggle—which has been acrimonious for years—over editorial freedom.
So how did Simmons become a juggernaut? At first, it was his tremendous, unique, genuine columns, which basically perfected marrying an average fan's perspective with pop culture and oftentimes, gambling aspects (the latter being taboo among most sportswriters for whatever reason despite the huge factor it plays—and this includes fantasy– over any televised event). Know this: A pre-ESPN Simmons would rail against many ESPN personalities on a daily basis. A pre-ESPN Simmons would call Roger Goodell a liar and not give it a second thought (Simmons was suspended for making the accusation, although it was his simultaneous challenge to management daring them to suspend him is what earned him those three weeks). Instead, the Sports Guy was forced to tow the corporate line since signing with the Worldwide Leader back in 2002. And as his power and influence (and ego) grew, Simmons continually tested his bosses' patience and tolerance. Fast forward to this week, when the big boss and once his biggest advocate—John Skipper—clearly had enough by publicly divorcing Simmons seemingly without warning.
So what are Bill's options moving forward? That's where things get interesting, as a bidding war between ESPN's top competitors will likely result in Simmons at least doubling his currently (reported) $5 million annual salary. The first instinct is to say Fox Sports has the advantage given its build-out of Fox Sports 1 & 2, owns rights to the NFL and Major League Baseball, and has Rupert Murdoch's bottomless pockets to make it happen. But the money here is on Turner Sports, which purchased traffic-giant Bleacher Report not long ago, has attractive platforms via HBO Sports, CNN, TNT and TBS. The last two networks will be particularly enticing to Simmons, who may love the Red Sox (his first book was about their improbable run to the '04 Championship in breaking the curse), worship the Pats, but is an NBA guy first and foremost (the subject of his second book). As far as money, at last check Time Warner (Turner is a subsidiary) has a few dollars in the bank as well, with $30 billion in annual revenue.
The third option, of course, is something Simmons wondered aloud about in a classic piece from 2011 when drawing a parallel of his own potential business model with the excessive greed and mindset of the average NFL owner.
Take a deep breath, suspend all disbelief and walk through the following hypothetical (and admittedly ridiculous) scenario with me …

It's December 2006.

I decide to leave ESPN, start my own blog and charge $10 per year for anyone to read my column. Just for fun — again, it's hypothetical! — let's say one million readers sign up, guaranteeing me $10 million for that first year (2007). And let's say I sign advertising deals with three sponsors for another $2 million apiece, raising my total haul to $16 million for Year 1. I spend the next 12 months writing and pinching myself for my good fortune. Life is good.

Fast-forward to December 2007. I just learned something about myself. I don't like it. I know it's wrong. I can't shake it. I can't deny it. See, I really, really like money. Even if I never imagined making $16 million in my lifetime, much less for a single year, I now find myself smitten by those dollar signs. How much more can I make? How high can this go? Someday, I want my financial adviser to cackle and say, "Good Lord, I don't even know what to do with all this cash flow." That's what I want.
The columns ends with Simmons alienating all of his employees and being so money-obsessed he steamrolls anyone who gets in his way. Now…does he really want to go through all the backend business headaches that go along with launching one's own site? Ezra Klein, Andrew Sullivan (now retired) and Glenn Beck all did it with varying degrees of success. But Grantland.com–Simmons' creation–is actually losing money (ESPN says it will stand by the venture) and could prove as a preview of what could happen if Simmons started his own media company. So if he's smart, he'll forego the risk and simply join Charles Barkley on the set of TNT's NBA studio show (despite being hopelessly average as a TV analyst) while hosting a version of his podcast on HBO and writing columns for Bleacher Report (#4 in traffic for sports media online)…while making at least $10 million.
Not a bad gig if you can get it.
Bill Simmons went from a struggling writer to one of the biggest names in media across multiple platforms. With success came more money, more self-importance and ultimately a bad breakup with the Worldwide Leader in Sports. But at just 45, his options are not only numerous, but extremely lucrative.
Wherever he goes, one thing is for certain: Everything Simmons has been holding back about his now-former employer is going to come out with a highly-entertaining vengeance. Get your popcorn ready.
— —
>>Follow Joe Concha on Twitter @JoeConchaTV
Have a tip we should know? [email protected]