With Nebraska GOP Vote, Ron Paul Will Officially Not Be Nominated For President At RNC Convention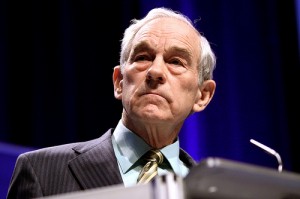 The Nebraska Republican Party gathered over the weekend to decide how many states delegates would be apportioned to the Republican presidential nominee Mitt Romney and how many would go to perpetual underdog Ron Paul. Paul's supporters were hoping the Texas congressman would win a plurality of delegates, thereby qualifying him to be placed into contention as a party nominee at the Republican National Convention next month. Paul only won two of the 35 delegates up for grabs, meaning Paul's name will not be in the pool.
RELATED: Ron Paul: Condoleezza Rice VP Pick Would Not Win Romney Any 'Ron Paul Supporters'
According to POLITICO, any Republican party candidate who wants to have his or her name thrown in the ring at the national convention needs to win a plurality of delegates in at least five states. Paul supporters were hoping Nebraska would be the fifth state for Paul. Republican governor Dave Heineman said that he wanted to make sure the outcome reflected the fact that Romney racked up more than 70 percent of the vote when Nebraskans voted in the presidential primary.
As it happens, the Nebraska showdown (Paul's Last Stand?) was the source of some tension between Paul supporters and the rest of the Republican party.
The run-up to Saturday's event was fraught with tension as Republicans braced for a more concentrated version of the conflict and chaos that has marked other state convention confrontations between establishment forces and Paul supporters. Those fears turned out to be unfounded.

How concerned was the Romney camp about the Nebraska outcome? The World-Herald's Robynn Tysver noted the presence of as many as five Romney staffers, including campaign counsel Ben Ginsberg, who was on the scene in Grand Island to keep an eye on things.
h/t POLITICO
Have a tip we should know? [email protected]
Josh Feldman - Senior Editor