With Potential Post-Sandy Voter Fallout, Could The Eyes Of The Nation Be On New York And New Jersey?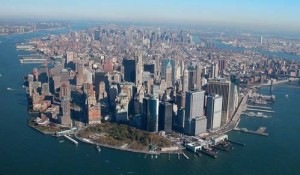 I'm a New Jersey native, and it's been hard to follow the news of just how damaged the state got last week after Sandy swept through. And this nor'easter is likely going to add to the trouble. But if there's one thing New Jersey and New York don't need right now, it's the eyes of the nation on them to end this election. Why would we be waiting for them? Because honestly, we don't know how the election's going to turn out in those states right now. Voting results may be delayed. And if we get to the end of the night and no one has reached the 270 mark yes, the eyes of the nation will be on New York and New Jersey to decide this presidential election.
Polling places in both states have been relocated, and lines are a mess. CBS News reported earlier today that in some New York that got hit by the storm, turnout was "heavy," but there has been quite a bit of confusion over where the new polling places are. This led to Governor Andrew Cuomo issuing an executive order to allow affidavit voting.
What that means is that until the polls close in New York tonight, state residents can go to polling places in surrounding counties, instead of just the one they're assigned to, and as long as they fill out affidavits stating that they are legally registered to vote, they can vote! Now, Cuomo did have another option, namely rescheduling voting within 20 hours of the election day under a little-known provision of New York law. But this move may not necessarily be the right one.
Howard Portnoy from Examiner.com explains what's problematic about Cuomo's executive order.
The plan bars New Yorkers from voting for candidates from their own congressional district, which means they are being denied a vital portion of their franchise.

It also means that those untroubled by the prospect of voting multiple times for president or U.S. Senators can do so with little fear of reprisal. In the midst of the confusion that is sure to reign at area polling places, it is highly unlikely that poll workers are going to verify whether those signing affidavits' have voted elsewhere.
So that's why New York may be a problem tonight. New Jersey, on the other hand, is dealing with voter fraud in a much different way. Lieutenant Governor Kim Guadagno announced over the weekend that residents displaced by the hurricane can request to submit a ballot by e-mail or fax. The deadline to request one passed an hour ago, and all e-ballots must be submitted by Friday.
While this might sound good and easy, here's the part that's making some people happy and frustrating others:
[I]n response to concerns that the procedure she'd outlined wouldn't pass statutory muster, Guadagno clarified that voters must send in the original copies of their ballots. This satisfied legal experts, but solidified an extra layer of difficulty for those who are struggling to get their votes counted. In the span of only a couple of days, the state's election officials have tossed a line and seen it tangled, unavoidably, in the mess of hurricane recovery and national politics.
Here's the thing: tens of thousands of New Jerseyans have been displaced by the hurricane, all of whom have the option of requesting online submissions for their ballots. And with these electronic submissions requiring an extra layer of security, many of these people may not be able to vote in time. And while you may not care because 1) you don't live in New Jersey, and 2) you're confident it's a solidly blue state regardless, consider this.
In 2008, Barack Obama won New Jersey by 600,000 votes. But now we have a Republican in the governor's mansion who has been one of Mitt Romney's biggest allies (hurricane-fueled tensions notwithstanding), and quite a number of people could be disenfranchised because of how crazy the state is by now. Electorally speaking, it might not mean that much, but New Jersey and New York are Democratic bastions, and regardless of the electoral college people will be monitoring the popular vote count.
So don't be surprised if it's midnight and we're still huddled around our TV screens, waiting on New York and New Jersey to finally settle this thing. Because if neither candidate has reached 270 by then, this is going to be a long election.
—–
Follow Josh Feldman on Twitter: @feldmaniac
Have a tip we should know? tips@mediaite.com
Josh Feldman - Senior Editor