Woman at CNN's Sanders v. Cruz Debate Appears to Read Off of a Sheet Marked 'Your Question'
Last night, CNN aired a rather unique live broadcast experiment: a one-on-one debate between Vermont senator Bernie Sanders and Ted Cruz of Texas about the Affordable Care Act and the future of socialized medicine in the United States.
In keeping with many of the Town Hall-style events that the network has bullishly aired as of late, the event, moderated by Jake Tapper and Dana Bash, included questions from the crowd. But keen Reddit users noticed that one of the women appeared to read off her contribution from a printed sheet of paper that included the words, "Your Question" at the top.
As the first hour of the event drew to a close, Tapper introduced Carol Hardaway, who he identified as, "One of the Americans who benefitted from Obamacare's Medicaid expansion." The Salisbury, Maryland native proceeded to stand up and direct her question at Senator Cruz, saying:
I have Multiple Sclerosis, but could not afford insurance. Without the treatment of medications I need, I had problems with walking, my speech, and my vision. When the Affordable Care Act was passed, I moved from our home in Texas because they refused to expand medicaid, to Maryland. And in two weeks, I started to receive treatments through medicaid, and I'm well enough to work as a substitute teacher. Senator Cruz, can you promise me that you and the Republican leaders in Congress will actually have a replacement plan in place for people like me who depend on their medicaid. In other words, I like my coverage. Can I keep it?
After Hardaway recounted her touching personal story, Cruz earned himself a few headlines for his rather bizarre response in which he congratulated the MS patient on her struggles ―"Congratulations on dealing with MS, it's a terrible disease and congratulations on your struggles dealing with it," he replied.
But Hardaway clearly read off her question from a sheet of paper that looks as if it was printed from her personal G-Mail account; at the top of that sheet of paper are the words "Your Question" in bold.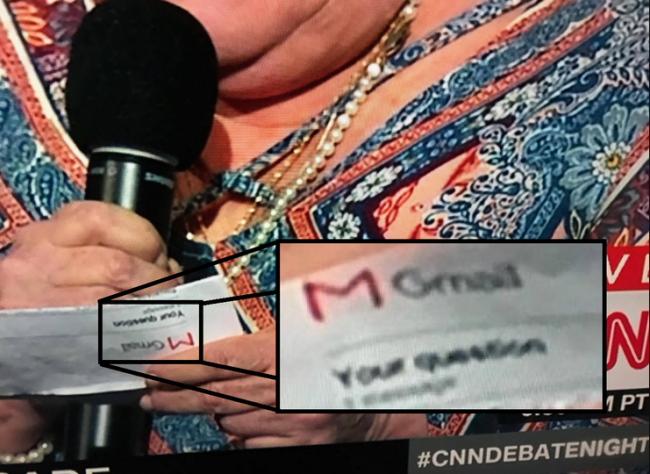 Did CNN provide Hardaway with the copy for her question? Many asked the same question following a recent Town Hall event that the network hosted featuring Nancy Pelosi. A NYU student by the name of Trevor Hill asked Pelosi a question live on-air about the shifting demographics of the Democratic party as it pertains to capitalism, despite the fact that his initial question was supposed to be something else. In an interview with The Huffington Post, Hill recounted how it was a "fluffier" question he was tapped to ask:
Hill agreed to submit two questions that he characterized as "fluffy." CNN selected one Hill had drafted based on the HBO comedy series "Veep."

He recalled the question he was supposed to ask: "One of my favorite TV programs is the HBO show 'Veep.' In the show, Julia Louis-Dreyfus' character is subjected to a lot of ridiculous and embarrassing campaign events by her staff that she doesn't enjoy in order to secure votes. I was wondering if you could relate to us a time when maybe you felt ridiculous or embarrassed on the campaign trail and if there is anyone you would like to call out for putting you in that situation?"
After being called on by Jake Tapper at the event, Hill said out loud, "But given the dire circumstances ― I'm so sorry Mr. Tapper ― given the dire circumstances our country is in, I wonder if you would indulge me in a little bit more of a serious question about the future of the Democratic Party," before launching into his question about the party's approach to capitalism.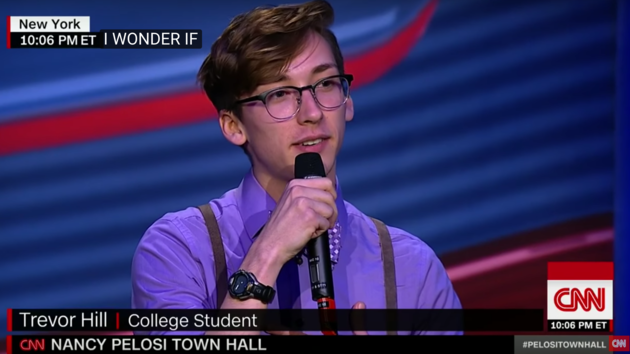 A CNN spokesperson said in response, "To ensure we cover a variety of topics, we asked him if he had a personal (non-policy) question he wanted to ask the House Minority Leader."
UPDATE: 12:56 p.m. EST — A spokesperson for CNN tells Mediaite, "Audience members ask their own questions. Their questions are printed so they can easily read them live on television. Our team works with them to trim questions for timing and to ensure we cover a variety of topics and that there is no overlap."
—
[h/t: image via Reddit]
Have a tip we should know? tips@mediaite.com