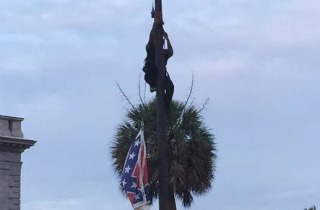 Bree Newsome became a huge online sensation overnight after, just a few days ago, she scaled the flagpole right near the South Carolina state capitol and took down the controversial Confederate flag. The second she came back down she was arrested, but activists have been flocking to defend her.
Newsome is facing criminal charges, but she's speaking out today in a lengthy statement provided to Blue Nation Review about why she did what she did.
Newsome explains, "I realized that now is the time for true courage the morning after the Charleston Massacre shook me to the core of my being. I couldn't sleep. I sat awake in the dead of night. All the ghosts of the past seemed to be rising."
She explains how horrified she's been at brutality against African-Americans all over the country and believes that "for far too long, white supremacy has dominated the politics of America resulting in the creation of racist laws and cultural practices designed to subjugate non-whites."
As for the decision to take down the flag itself, Newsome goes into the thought process she and others held going into it:
We discussed it and decided to remove the flag immediately, both as an act of civil disobedience and as a demonstration of the power people have when we work together. Achieving this would require many roles, including someone who must volunteer to scale the pole and remove the flag. It was decided that this role should go to a black woman and that a white man should be the one to help her over the fence as a sign that our alliance transcended both racial and gender divides. We made this decision because for us, this is not simply about a flag, but rather it is about abolishing the spirit of hatred and oppression in all its forms.

I removed the flag not only in defiance of those who enslaved my ancestors in the southern United States, but also in defiance of the oppression that continues against black people globally in 2015, including the ongoing ethnic cleansing in the Dominican Republic. I did it in solidarity with the South African students who toppled a statue of the white supremacist, colonialist Cecil Rhodes. I did it for all the fierce black women on the front lines of the movement and for all the little black girls who are watching us. I did it because I am free.
She hopes her act of civil disobedience will inspire others to continue the fight for justice.
[h/t USA Today]
[image via @rashadrobinson]
— —
Follow Josh Feldman on Twitter: @feldmaniac
Have a tip we should know? tips@mediaite.com
Josh Feldman - Senior Editor