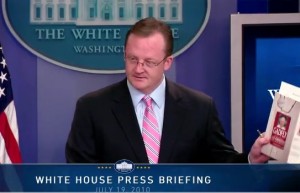 Frequent Mediaite readers already know that World Net Daily correspondent Les Kinsolving's daughter, Kathleen Kinsolving, has written a fascinating biography about her father's long, strange career. Now, C-Span junkies and WhiteHouse.gov superfans are in on the secret, thanks to Press Secretary Robert Gibbs. He found a copy of "Gadfly" on his podium yesterday, and remarked about it.
True to form, though, World Net Daily sees a conspiracy even here, claiming the White House scrubbed Les' book from the briefing transcript. Get the whole truth here.
Here's the video of Gibb's exchange with Les, at the very beginning of yesterday's briefing:
Before we go any further, let me confirm that Les did not place the book on Gibbs' podium, nor did I (I gave Gibbs my extra copy a few weeks ago). That copy was left on someone's desk, and I saw it change hands a lot yesterday. I know who put it on the podium, too, but I'm not going to rat out a fellow reporter. It definitely was not Les.
Amid the joking, dismissive reactions, I tried to get some folks to actually read it. Love him or hate him, Les' life is a damn good story.
Most of the reporters I speak with about Les are completely unaware that there's more than meets the eye where he's concerned, and are surprised to learn about his role in exposing Jim Jones' People's Temple, or in exposing the Reagan administration's apathy about AIDS, or his entanglement with the apartheid government of South Africa, which led to the outing of a Nazi war criminal.
Hilariously, World Net Daily isn't satisfied with getting a great still shot to put on the next printing of Les' book, instead seeing only the dark, sinister shadow of censorship:
…references to the book about Kinsolving, the second-most senior reporter on the beat, were edited out of the transcript before it was released.
In fact, if you look at every other briefing transcript, unless Gibbs is making an announcement at the top of the briefing, they all begin with "Mr. Feller," or "Ms. Loven," or whichever AP reporter is covering the briefing that day. They never include extraneous chatter. Besides that, if the White House were truly invested in covering up "the incident," they probably would have also cut it from their official video (posted above).
Have a tip we should know? tips@mediaite.com