Worst Oppo Memo Ever: Mitt Romney Campaign Accuses Rick Santorum Of Congress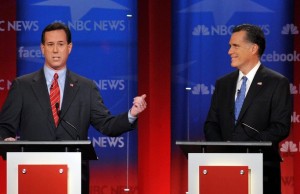 Although current Republican frontrunner Rick Santorum continues to use his mouth to weaken his general election prospects, he still remains a rock-hard target to attack from the right. As I've noted previously, the grounds on which former Massachusetts Gov. Mitt Romney can safely attack Santorum are thinner than a Bayer Aspirin. The Romney campaign underscored that fact this morning by releasing an oppo memo that slams Santorum for…being in Congress?
In case his constant introductions as "Sen. Santorum" haven't gotten the message across, the Romney campaign really wants you to know that Rick Santorum was in Congress, for a decent stretch of time. I had to read through the memo twice to make sure, but that's all they're saying here. Not "he was a bad, bad congressman," or "he got his ass whooped in his last Senatorial election," or even "he voted 'yes' on the Making Sausage Out Of Kittens Act."
The memo, entitled "Meet Congressman/Senator Rick Santorum," opens with this statement:
"Mitt Romney spent his career in the private sector as a chief executive, where he helped create jobs and turn around major enterprises. Congressman/Senator Rick Santorum, on the other hand, has spent his career in Washington. Rick Santorum is part of the problem, so he can't be part of the solution." –Andrea Saul, Romney Campaign Spokesperson
So far, not terrible. With Congress' approval at an all-time low, it's not a bad case to make. So, what did Santorum do that was so bad?
After Beginning His First Campaign In 1989, Senator Santorum Spent More Than Seventeen Years Running For Or Serving In Congress And Cast Thousands Of Votes:

Senator Santorum Is A Professional Politician, Having Been Elected To Congress In 1990 And Staying For Sixteen Years Until His 2006 Defeat. "In 1990, Mr. Santorum, then 32, was first elected to the House of Representatives, and four years later rode an anti-incumbent wave into the Senate. He won re-election in 2000, but after a bitter and expensive campaign lost his bid for a third term in 2006 against his Democratic challenger, Bob Casey, the Pennsylvania state treasurer." (The New York Times' "Election 2012" Website, 2/19/12)
Correct me if I'm wrong, but isn't "casting thousands of votes" the congressional equivalent of bears shitting in the woods? It's what they do. If anything, the message here is that Santorum was a hard-working congressman.
But the hits keep coming from Team Romney:
During His Career In The House And Senate, Santorum And His Colleagues Cast More Than 6,000 Votes. (U.S. House of Representatives, www.house.gov, and U.S. Senate, www.senate.gov, Accessed 2/19/12)
Wow, so congressmen cast votes. Is this an oppo memo, or the worst episode of Schoolhouse Rock in history?
Romney then uses a technique that pro-Obama SuperPAC Priorities USA used against Romney a few months back, ticking off cultural touchstones during Santorum's time in Congress:
A Lot Has Happened Since Senator Santorum Started Running For Congress In 1989:

Major World Event In 1989: George H.W. Bush Is Inaugurated As 41st President Of The United States. (White House Website, www.whitehouse.gov, Accessed 2/19/12)

Academy Award-Winning Best Picture For 1989: "Driving Miss Daisy." (IMDb.com, 2/19/12)

Top Television Shows In 1989: "Roseanne" & "The Cosby Show." ("Names In The News," The Associated Press, 1/1/90)

Billboard's #1 Hit Single In 1989: Chicago's "Look Away." ("Billboard Top 10s Of 1989," St. Petersburg Times, 12/29/89)

Notable Television Premiere In 1989: "Seinfeld." (Julie Washington, "'Seinfeld' Bus To Stop By: No Soup For You, Though," Plain Dealer, 10/19/08)

Video Game System Introduced In 1989: Nintendo's Game Boy. (Omar El Akkad, "Attack Of The Gadgets Leaves Nintendo Limping," The [Canada] Globe And Mail, 1/27/12)
It's not only a thin attack, but it serves as a reminder that the only difference between Santorum's congressional career and Mitt Romney's is that Mitt Romney couldn't get anyone to elect him. Also, Romney invited the attack by claiming he's not a politician, which would be a bit like the 1962 Mets claiming they weren't a baseball team. Santorum proudly defends his time in the US Congress.
Romney's huge fundraising advantage gives him far superior firepower in this Republican primary race, but if he's going to stave off this challenge from Rick Santorum, he's got to start loading those big guns with more than flags that say "BANG!" on them.
Have a tip we should know? tips@mediaite.com