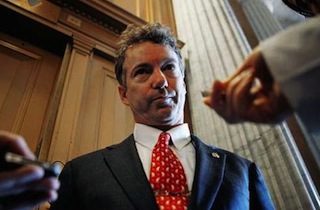 Dan Stewart, a writer for The Week whose words were lifted by Senator Rand Paul (R-KY) for an op-ed in the Washington Times, wrote Wednesday morning that he didn't really mind the unattributed use of his work, and was "rather flattered" by the increased attention brought to his original piece.
On Monday, Buzzfeed's Andrew Kaczynski caught Paul's copying of Stewart's article on mandatory minimum sentencing, which had run one week prior to the senator's op-ed on the subject.
"I suppose I ought to feel angry," Stewart wrote. "My work was stolen by an elected official and putative presidential candidate with a far higher profile than me, who passed it off as his own instead of acknowledging its lowly creator. But I don't. In fact, I'm not all that bothered by Sen. Paul's use of my article."
Last week, Rachel Maddow spotted Paul using verbatim portions of a Wikipedia article on Gattica, which sprung a leak of increasingly serious plagiarism accusations. On Tuesday, the Washington Times discontinued Paul's weekly op-ed, writing, "We expect our columnists to submit original work and to properly attribute material."
Paul's was initially defiant toward the allegations—even half-jokingly challenging Maddow to a duel—but he has since apologized for what he called "sloppiness."
RELATED: Rand Paul's Wikipedia-Gate Gets Serious and Maddow Gets the Last Laugh
Stewart attributed (ahem) his lackluster response to a generational shift in attitudes about intellectual property. "I'm indifferent to being plagiarized because today's media environment has changed what it means to have ownership of a piece of writing," he wrote. "Once your words are published online, they become part of the currency of the internet. They can be freely woven into others' articles, quoted at length, or tweeted without context. None of us can afford to be that sensitive about how others use or abuse our work."
He maintained that plagiarism is a serious offense, but one becoming less severe as cheating rises at colleges and infamous plagiarists snag book deals for their (non)efforts.
"Paul's error, in this instance at least, seems to be one of laziness rather than malfeasance," Stewart wrote. "If he or his ghostwriter had simply used the details of what I'd written, rather than the sentence structure and wording, I wouldn't be writing this right now."
[h/t The Week]
[Image via Getty]
——
>> Follow Evan McMurry (@evanmcmurry) on Twitter
Have a tip we should know? [email protected]