WSJ Columnist Slams Media Shield Laws: Gov't Should Not Determine Who Is A Journalist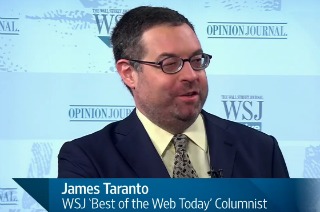 Wall Street Journal columnist James Taranto expressed serious reservations on Tuesday about a national shield law, which the Obama administration has proposal as a means of addressing the Justice Department's heavy-handed subpoenas of journalists' telephone and email records. Taranto said that any law that provides the government the authority to determine who is or who is not a reporter is suspect, particularly given the recent revelations about the IRS's partisan enforcement of tax laws.

Taranto noted that the naming of Fox News Channel reporter James Rosen as a "co-conspirator" is an unprecedented way to further an investigation against a government sources. He said that the "institutional interests" of the journalistic profession overrode the instincts of often pro-White House media outlets like the New York Times editorial board.
When asked about a federal shield law, however, Taranto said he was skeptical.
"I don't know if it would address something like this, anyway, because Rosen isn't trying to protect his source here," Taranto said.
"The problem I have with shield laws is the shield law would have to apply only to real journalists," Taranto added indicating quotes around the word "real."
"Who decides what a real journalist is? It puts the government in the position of licensing the media," he concluded. "If the government is in the position of saying 'You're a news gathering organization, you're not' — if the government is making that determination, how can we have confidence in the government to do that without exercising favoritism?"
Watch the clip below via The Wall Street Journal:
> >Follow Noah Rothman (@NoahCRothman) on Twitter
Have a tip we should know? tips@mediaite.com