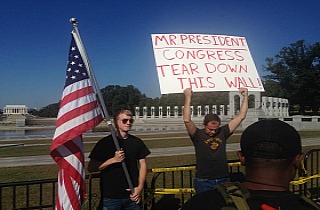 Conservatives have found their rally point in the midst of a losing battle over the ongoing government shutdown. With events breaking in directions any Republican aware of public opinion knows are suboptimal, right-leaning Americans have rallied around the seemingly petty and vindictive closure of the World War II Memorial to visiting octogenarian veterans. The cruelty of this maneuver is reminiscent of the sequester fight where the White House was closed to visitors by choice and emails from government staffers revealed that they were directed to ensure that mandatory budget cuts are keenly felt by average Americans.

But as the veterans of the most terrible war ever fought stormed what will hopefully be their last barricade on Tuesday, and Republicans rallied to their sides, conservatives may have missed the bigger picture. In some Republicans' eagerness to ascribe malicious motives to President Barack Obama, they failed to recognize the more powerful message the WWII Memorial closure has sent average Americans: this is just how government operates.
National Mall and Memorial parks spokeswoman Carol Johnson told CNN's Erin McPike on Tuesday night that the open-air park was fenced off to outsiders simply as a result of protocol.
"I know that this is an open-air memorial, but we have people on staff who are CPR trained," Johnson explained. "We want to make sure that we have maintenance crew to take care of any problems. What we're trying to do is protect this resource for future generations."
So, by virtue of the lack of trash collection and "CPR trained" employees on site (who presumably occupy an office somewhere and are on call for only a portion of this memorial's 24-hour operation period), this park had to be fenced off.
Fine. Let's take this patently insufficient explanation at face value. Then why, facing a public relations nightmare after forcing elderly veterans to storm the park's barricades, would this agency double down on Wednesday and erect even more impenetrable barriers and threaten those who penetrate them with arrest? Because this is the way government agencies operate.
The violation of their perceived supreme authority cannot be tolerated. Such insubordination threatens the necessity of the bureaucratic agency charged with executing this or the other task. Should a bureaucracy's mission be shown to be superfluous or redundant, it would threaten funding, jobs, livelihoods. Some in government correctly see the demonstration of their expendability to be an existential threat. Such threats must be neutralized.
RELATED: WWII Vets Tear Down Barriers Surrounding War Memorial
The WWII Memorial's closure, and the ham-fisted reaction displayed by the agency charged with the memorial's maintenance when that closure was not sufficiently observed, has framed the GOP's small government argument in real world terms. The memorial is overstaffed and is managed by tone-deaf functionaries who are unmoved by appeals to common humanity. The whole episode is a caricature of unresponsive government. Small government forces could not have invented a better foil.
Democrats hoping that the government shutdown will rebrand the GOP as unserious rabble-rousers may yet get their wish. But if they are also hoping that the shutdown demonstrates the essential nature of every dollar of government funding, they will be disappointed.
The sequester budget cuts, an idea designed to be terrible and unpalatable to everyone in Washington, failed to ignite grassroots outrage. In April, one month after the cuts went into effect, 65 percent of respondents to a McClatchy-Marist poll said the cuts would not have any effect on their lives. By late May, only 37 percent of respondents to an ABC/Washington Post poll said that they had been directly affected by those cuts. The issue has since faded from pollsters' list of priorities. The cuts became a fact of life. They became the baseline which both Democrats and Republicans acknowledge is baked into budget negotiations. People got used to them.
The sequester cuts proved, to the chagrin of progressives, that Americans can live – even prosper — with a lot less government. The apocalyptic rhetoric from Democrats about the dire impact sequester would have on the economy was shown to be just talk.
Republicans can harness the WWII Memorial snafu to frame their small government agenda in tangible and accessible terms that average Americans can easily internalize. The conservative base has thus far indulged their ignoble instinct to cast this incident as yet another demonstration of how this president is a spiteful brute. The middle of the electorate long ago tuned out conservatives who make this self-indulgent contention. But conservatives do have a strong case to make if they were to ask Americans if they think their tax dollars are best utilized by ensuring essential service personnel are tasked with keeping World War II veterans out of their own memorial.
[Photo via Charlie Spiering]
— —
> >Follow Noah Rothman (@NoahCRothman) on Twitter
Have a tip we should know? tips@mediaite.com