Yes, Glenn Beck Has A Brand New Set…As Well As An Exact Replica Of The Oval Office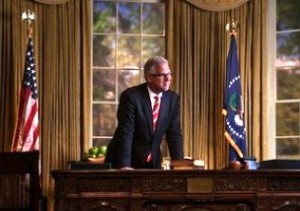 Yesterday on his eponymous web and radio series, Glenn Beck took GBTV viewers on a tour to see where all their subscription money has been going and you could certainly see it on the screen. Beck introduced his audience to what he boasted was probably the largest set constructed for the web (Don't scoff, luddites. That's a title that will definitely mean something in the coming years). It's all part of what he has dubbed, ever so subtly, The American Dreams Lab. And what's the coup de grâce? How about an exact replica of the Oval Office which he can give addresses from?
While the Oval Office hasn't been fully revealed on the show, Beck did release a few photos over the weekend as well as a brief, teasing glimpse of the desk on GBTV. As he explained on his radio show, Beck got it by buying the left over set from the movie JFK and then completely refurbishing it.
Here's his discussion of it yesterday morning which also includes a quick, tantalizing look:
Does this mean we can consider Oliver Stone one of the main contributors to Glenn Beck's new venture? Not really, but it's still an amusing thought.
We got a better look at the rest of the set on his web show last night as Beck brought cameras into the almost completed set. He explained that the idea for The American Dreams Lab originated after his 2010 Restoring Honor Rally and was originally planned as a way to transform a whole American town. However, since then, the plan has evolved and is now "not only about transforming a single town, but the entire world."
Honestly, I have no idea what Beck means by that. But, by my best translation, he's saying that his set is really, really big and really, really shiny. We can't argue with that.
Check out the Dallas-based location in the video from GBTV below:
Have a tip we should know? tips@mediaite.com