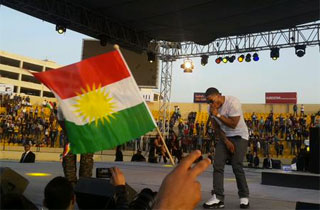 So the rapper Nelly just performed a concert in Iraq to help raise money for the fight against ISIS.
Yeah, we don't know either.
Nelly, the artist responsible for the early aughts classics "Hot in Hurr" and "Country Grammar," resurfaced at a concert in the Iraqi city of Erbil, near the front lines of the war between the autonomous region of Kurdistan and ISIS, to perform at a charity soccer tournament raising money for the Peshmerga. (Coincidentally, the Kurds have been asking the United States to give them more money so they can purchase equipment to properly fight ISIS. America, Kurdistan is clearly desperate.)
According to BuzzFeed, Nelly was invited to Iraq by the Rwanga Foundation and may have been paid "handsomely" for his appearance, though his fee was unconfirmed:
So apparently #Nelly has been paid $650,000 to perform in #Erbil for peshmerga's. Would be better if money had gone straight to peshmerga.

— Ranj Talabany (@ranjtalabany) March 13, 2015
In any case, BuzzFeed also reports that the concert was "sparsely attended," likely due to the fact that there was a war close by:
Though there were apparently a lot of people in attendance for this motorcycle stunt thing:
Last month, Akon announced that he would also perform a concert in Kurdistan in March, though so far there hasn't been much more information outside that.
[BuzzFeed]
[Image via @vvanwilgenburg/Twitter]
—
>> Follow Tina Nguyen (@Tina_Nguyen) on Twitter
Have a tip we should know? tips@mediaite.com