Yiannopoulos Shoots Down Rumors of a Ben Shapiro-Milo Debate With Jab: 'Ben Who?'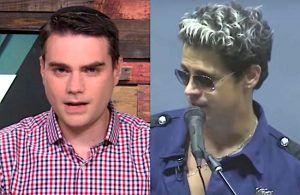 During an interview with Oliver Darcy of Business Insider, conservative provocateur and soon-to-be author Milo Yiannopoulos touted his announced forthcoming book "Dangerous" — and took a jab at former Breitbart editor Ben Shapiro in the process.
Shapiro addressed the alleged showdown during an episode of The Ben Shapiro Show earlier this year, calling Yiannopoulos a "coward [who] chickened out."
There won't be a debate with Milo because he's a coward. He chickened out, blamed me. I'm done. Listen here at 54:13 https://t.co/zMaaFVaUgr

— Ben Shapiro (@benshapiro) June 10, 2016
Darcy brought up the Shapiro incident in his exclusive with Yiannopoulos Friday, asking, "A while ago there was a lot of hype about a Ben Shapiro-Milo debate. Is it going to happen?"
The Dangerous Faggot college tour host and Breitbart editor responded simply, "Ben who?"
His upcoming book was just announced by Simon & Schuster yesterday; it's already at #2 on the Amazon best seller list, even though it's not due out until March 14th. Darcy pressed about the contents of "Dangerous," to which Yiannopoulos replied, "I hope to offend every reader."
He continued of the relationship with the publisher, "I met with top execs at Simon & Schuster earlier in the year and spent half an hour trying my hardest to shock them with lewd jokes and outrageous opinions. I thought they were going to have me escorted from the building — but instead they offered me a wheelbarrow full of cash."
"Dangerous" is expected to hit on a variety of controversial social topics, including Black Lives Matter, feminism, and the author's loose relationship with the alt-right. "First and foremost, I'm a journalist. My business is the truth," he continued telling Business Insider Friday. "Now, I happen to be other things too — a pop-culture phenomenon, the most in-demand speaker on the campus lecture circuit, whatever. But I believe in facts."
Read the full interview between Darcy and Yiannopoulous here.
Have a tip we should know? tips@mediaite.com