Yo, Man, Rand! Rand Paul Surges Past Chris Christie In 2016 Republican Primary Poll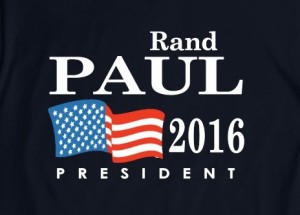 In yet another positive sign for as-yet-undeclared 2016 Democratic presidential frontrunner Hillary Clinton, Republican voters still show no inclination to vote for the one guy who can currently come close to beating her, and have begun to favor the guy who's not so sure about the Civil Rights Act. In a new poll by Democratic-leaning Public Policy Polling, former Secretary of State Hillary Clinton still leads the Democratic field by a mile, but Senator Rand Paul (R-KY) has leapfrogged past Governor Chris Christie (R-NJ), former Florida Gov. Jeb Bush, and Rep. Paul Ryan (R-WI), to take second place behind Sen. Marco Rubio (R-FL).
While New Jersey Governor Chris Christie consistently polls best against potential Democratic candidates, Republican voters have just as consistently shown a clear preference for more beatable candidates. What's changed is that Sen. Rand Paul, coming off of his high-profile filibuster and victory in the 2013 CPAC straw poll, is now nipping at frontrunner Marco Rubio's heels, and is also polling better than Rubio against Hillary:
Given the choices of several potential Republican candidates, Republican voters would like to see Marco Rubio run (21%) and Rand Paul and Chris Christie as a close second
and third (17% and 15%, respectively).

…American voters prefer Hillary Clinton to every potential Republican candidate who might run against her: Chris Christie (she beats him by 4 points), Rand Paul (by 6 points),
Marco Rubio (by 7 points) and Paul Ryan (by 7 points).
Christie's margin against Hillary remains unchanged since the last poll, but his favorability rating has slipped five points, from 44% to 39%, while his unfavorables ticked up six points, to 28%.
Although Sen. Paul raced past several others since the last poll, gaining seven points in two months, Christie's support among Republicans did creep up a couple of points. Among Democrats, Hillary Clinton increased her lead over the rest of the field, going from a 58%-19% lead over Vice President Joe Biden, to a 64%-18% margin. Her overall favorability also ticked up a point, to 50%, with 42% unfavorable.
Of course, the 2012 election saw an endless parade of frontrunners before the Republicans finally settled on the most "electable" choice, but the energy building around Rand Paul among conservatives, along with a concurrent antipathy for Gov. Christie, could make 2016 a different story. Instead of Paul Ryan losing the vice-presidency, Republicans might get to watch Paul/Ryan lose the whole shebang.
Have a tip we should know? tips@mediaite.com