Well, sort of.
Using a new proxy buying service called Brawker, a New Hampshire-based Reddit user "rossby" boasted of being the first to pay for a parking fine using Bitcoin. He posted the transaction receipt to the cryptocurrency's subreddit, along with a caption "I just paid a parking ticket with Bitcoin":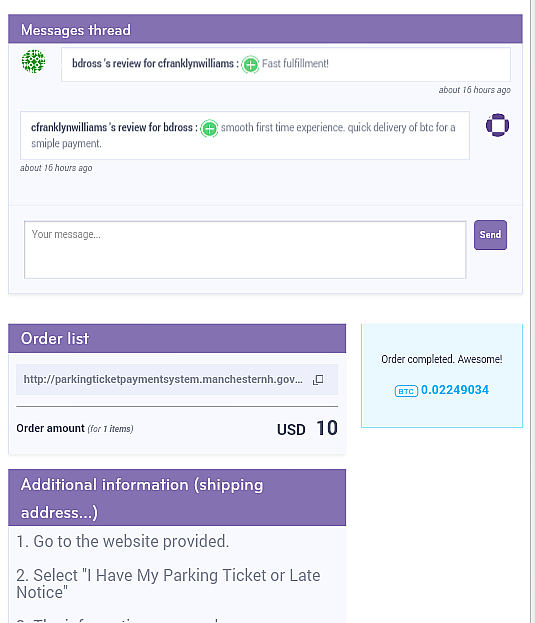 No, the city of Manchester, N.H., did not suddenly start accepting bitcoins as a means to paying off fines. Think of Brawker as an escrow service for people looking to purchase any items available online using bitcoins. Confused? Let Brawker's website explain how the process works:
Select items you want to buy from any online merchant and post the order here, on Brawker. Ensure the order amount includes any required taxes and shipping charges. Provide complete order details, ensuring your delivery address is correct. Deposit sufficient bitcoins in your Brawker wallet. Interested Brawker users will bid for your order. Accept a bid, and negotiate your discount. When you receive the items and you are fully satisfied, finish the transaction releasing your bitcoins to the buyer.
Users negotiate a "discount" from 0% to 20%, essentially marking the difference between the Bitcoin exchange rate agreed upon by both parties and the current market rate.
So if your local government — or cable company, or utility service, or favorite retail store, etc. — has online ordering available, you can set it up using this system. That is, of course, if you want to use Bitcoin.
[Featured image via Shutterstock.com]
— —
>> Follow Andrew Kirell (@AndrewKirell) on Twitter
Have a tip we should know? tips@mediaite.com