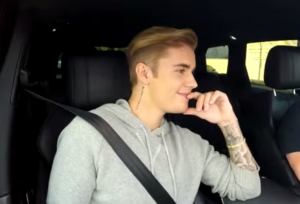 Only a few months past that weird incident wherein he maybe supported Donald Trump but then maybe didn't, Canadian-born superstar Justin Bieber was very, very close to performing for 45 minutes at a venue close to the Quicken Loans Arena while the Republican National Convention was happening. GOP donors raised $5 million to get the pop star to come perform and he seemed pretty willing to go sing "As Long As You Pay Me Love Me" before his manager Scooter Braun stepped in.
According to TMZ, Braun is a huge Hillary Clinton supporter and gently let the Biebs know that taking the payday would leave him manager-less. (In the version of this interaction that took place only in my head, Braun dissuaded Bieber using titles from the hitmaker's fast collection of singles. "Love Yourself, Justin," he pleaded. "Be Confident. Say Sorry, but you just can't do it this One Time. Mark My Words, I will quit on you if you don't back out. Now, No Pressure, but U Smile, call them up, and say no.")
Oh, and weirdly enough, LeBron James told Bieber he shouldn't do it, too. No, really. Per TMZ:
Our sources say the promoter told Scooter … LeBron James himself was also going to attend an event in Cleveland, welcoming the GOP without taking a political stand. The sources tell us Justin's people got in touch with LeBron's people, and they were told LeBron would actually not be in Cleveland for the convention and urged Justin not to go as well.
Last but not least, Bieber's band, which is entirely made up of musicians of color, didn't want to do the gig, No surprise, since the RNC banned the "Black Lives Matter" banners Braun had suggested, instead telling the singer he could put up "All Lives Matter" banners.
Ultimately, Bieber turned down the gig, but would he still compromise his principles (or those of his manger) for a $5 million payout in the future? Never Say Never.
[image via screengrab]
Have a tip we should know? tips@mediaite.com