'Your History is Ass Backwards!': CNN Panel Discussion Over Nazi Salutes Totally Disintegrates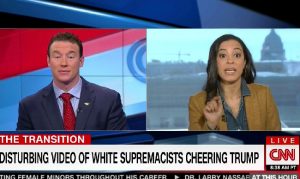 During a CNN panel discussion that was initially about attendees at an alt-right conference giving Nazi salutes in President-elect Donald Trump's name disintegrated into a shouting match over the differences between the Democratic and Republican parties.
CNN contributor Angela Rye and conservative pundit Carl Higbie joined host John Berman for the discussion. After a relatively calm first couple of minutes as the talked about the conference, the conversation got heated pretty quickly after Higbie said Trump hadn't denounced this latest incident because he was too busy denouncing protesters "tearing down local businesses."
He then called the Republican Party the one that "freed the slaves" and the "party of Martin Luther King," leading to Rye to shoot back. After telling Higbie MLK wasn't a Republican, he responded to "look at your history." (CNN itself debunked this myth earlier this year.)
"My history is clear," Rye exclaimed. "Your history is ass backwards!"
This then resulted in Higbie and Rye fighting back and forth over what the two political parties represented. At one point, Rye brought up reparations, leading Higbie to say that is "the most ridiculous un-American statement I've ever heard."
Eventually, Berman chimed back in, stating that "we have shifted a little far a field." He then asked both of them if they condemned the Nazi salutes at the meeting and both agreed that they did, as well as both agreeing it was racist and anti-Semitic.
Which, of course, makes one wonder what the entire argument between Higbie and Rye was even about.
Watch the clip above, via CNN.
[image via screengrab]
–
Follow Justin Baragona on Twitter: @justinbaragona
Have a tip we should know? tips@mediaite.com