'You're Being Really Disingenuous': Scarborough Calls Out Cohost on Fear-Stoking Accusations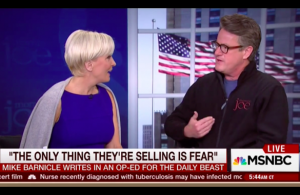 On Monday's Morning Joe, cohosts Joe Scarborough and Mika Brzezinski got into a heated exchange during a conversation on the President's response to the growing ISIS threat and rhetoric from some intended to play on the fears of the American public.
Brzezinski noted at the beginning of the discussion on the Republican candidates for President that some "are just capitalizing on fear."
When author Kristen Soltis Anderson contributed the idea of a disconnect between the concerns of the American people and the response from President Obama, Brzezinski offered that guns — not terrorism — were really at the heart of the electorate's concerns. "Except I would argue that in this century our biggest problem to everybody's safety is guns compared to terrorism — would anybody disagree?" she offered.
Scarborough seemed to take offense with Brzezinski's submission of gun control to the conversation. He said:
"I sat back politely and you had to keep pushing me, didn't you?… Yes, there is fear. And a lot of the fear comes from the fact that the President of the United States has shown an astonishing lack of leadership and when the President talks about everything but terror, that's a problem. When you say the problem is guns in America, that's not the truth."
Scarborough and Brzezinski continued to spar over the debate on gun control versus domestic terrorism, and President Obama's response to each. When prompted about whether or not the President understands the urgency of the American people's fears of terrorism, Scarborough snapped, "OK but he doesn't! We're talking about terrorism, he's talking — and you're talking — about guns. We're talking about ISIS, he's talking — and you're talking — about a refugee crisis."
"It's always 'distract' and 'change from' the fact that this President has gotten it wrong about ISIS from the beginning!" the former GOP Congressman continued. As Brzezinski attempted to shift the conversation away from the contentious exchange, Scarborough halted to get clarification on an accusation of fear-stoking:
Scarborough: "Did I say something that stirred up fear, Mika? Please don't suggest that I did."

Brzezinski: "I'm not. I'm saying that you're tapping into something that really cuts through with people. And if you look at —

Scarborough: "I'm not trying to tap into something! Wait, are you suggesting that I'm playing on people's fears?"
Scarborough charged Brzezinski with changing her tune on this issue, saying bluntly, "You're being really disingenuous, because you share the same fears off camera that I have."
Watch the exchange above from MSNBC.
[image via screengrab]
—
>> Follow J.D. Durkin on Twitter (@MediaiteJD)
Have a tip we should know? tips@mediaite.com